The World Remembers 9/11 on 20th Anniversary of Attacks: Update
(Bloomberg) -- The 20th anniversary of the Sept. 11, 2001, terrorist attacks were marked around the globe by tearful ceremonies and somber tributes. Officials reflected on the lessons learned after 9/11 and how that resilience can be relied upon again to revive the U.S. as it continues to grapple with a crippling pandemic.  
Back then, the world froze as four hijacked planes slammed into the World Trade Center, the Pentagon and a Pennsylvania field and brought nearly 3,000 people to their deaths. Lower Manhattan was torn to pieces, residents unsure if it would ever recover. Washington was under attack. Americans were terrified. Global markets plunged.
In the two decades since, foreign policy has been upended. Security measures at global borders, airports and office buildings reshaped travel and international business. New York City was transformed.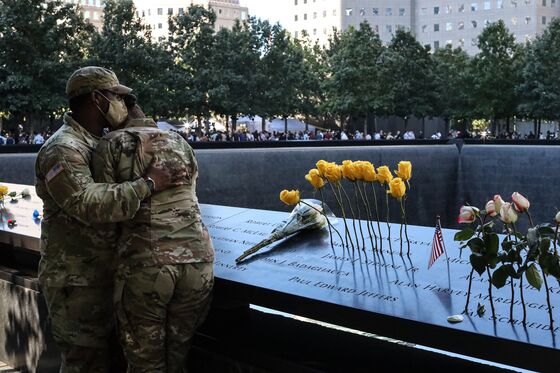 The echoes of the destruction wrought on 9/11 -- and what it took to rebuild after -- weren't lost on those gathering Saturday at Ground Zero, resounding the message by New York Governor Kathy Hochul: "We never forget, but we go forth into the future steeled in the conviction that yes, we were knocked down, but we are never out. Whether it's a terrorist attack, whether it's the pandemic." 
Hochul joined President Joe Biden, the Obamas, the Clintons and other U.S. officials at the National September 11 Memorial & Museum to read the names of those killed in the attack. The annual reading -- which was attended by 8,500 people -- is held by the nonprofit, chaired by former New York City Mayor Michael Bloomberg, the founder and majority owner of Bloomberg LP, the parent company of Bloomberg News. 
Former President George W. Bush joined Vice President Kamala Harris at a memorial for those lost in Shanksville, Pennsylvania, while messages of unity from world leaders including U.K. Prime Minister Boris Johnson and Canadian Prime Minister Justin Trudeau streamed in.
Biden, U.S. officials gathered at National September 11 Memorial & Museum
New York City residents see road closures, increased police presence
Law enforcement says no specific, credible terror threat
Wall Street, global leaders remember 9/11
Trump Meets First Responders (2:50 p.m.)
Donald Trump met with New York police officers and firefighters at a Midtown police precinct while shunning the official commemorations at Ground Zero that included other former presidents.
Trump posed for photos, signed autographs and criticized President Joe Biden's withdrawal of U.S. forces from Afghanistan, the New York Post reported.
Murphy Calls For Solidarity (2:30 p.m.)
In a speech at New Jersey's Empty Sky Memorial in Jersey City, Governor Phil Murphy said 9/11 wasn't just about remembering the dead, but also about renewing a commitment to "liberty and unity." New Jersey lost 750 residents and first responders, many of whom, like Murphy, worked in the financial industry. 
"Time may have dried our collective tears, but time will never erase the names and the stories of those who were lost," said Murphy, a Democrat running for re-election this year. "Today is a day to renew our commitment to the ideals upon which this country was founded."
Biden Praises Bush's Appeal for Unity (1:45 p.m.)
Biden praised former President George W. Bush's speech on the anniversary of 9/11 as an example of how to make democracy work.
Some people "think because the world is changing so rapidly and people are so divided, you can't bring people together for a democracy and get a consensus and the only ones who are going to be able to succeed are the autocrats," Biden told reporters in Shanksville, Pennsylvania. "That is why it is so damn important we demonstrate it," he said, adding that "we can, in fact, lead by the example of our power again."
Former President Bush's speech referenced the spirit and togetherness that he said washed over the country in the wake of 9/11 and called on the U.S. to embrace "the America I know." Asked how America can return to the state of unity Bush referenced, Biden said the key was "being honest when I make a mistake, by being straightforward and telling people exactly what I want to do, letting them know there is no hiding the ball."
Ground Zero Ceremony Ends (12:51 p.m.) 
The memorial ceremony at Ground Zero has come to a close with the reading of nearly 3,000 names. Buglers play Taps to signify the end of the day.
"Not a day goes by that I don't think about my father and the horrible way he was taken from me," said Vaughn Coleman, whose father Keith Coleman worked at Cantor Fitzgerald in Tower One of the World Trade Center. "I can't change that but I know that he's here in spirit. God bless America and everyone who defends it every single day to prevent another tragedy like this." 
New York City Mayor Bill de Blasio reflected on the ceremony after it ended, calling it "incredibly moving."
"Every year we still feel it, but this year, on top of Covid, it's taken on an added meaning, and what I'm feeling is just the strength and perseverance of New Yorkers -- you just feel it coming through," he said in an interview. "People will not give up -- and that's something powerful even in a sad moment."
Biden Attends Shanksville Memorial (12:35 p.m.)
The Bidens traveled to Shanksville to pay their respects to those lost in the Shanksville crash. They walked across a flowered field to lay a wreath at a wall of names erected at the site of the crash and talk with some of family members and friends of the people who died. 
Treasury Impact (12:00 p.m.) 
Treasury Secretary Janet Yellen said that 9/11 had jump started the discipline of "financial intelligence" in a statement on the anniversary of the attacks.
"I wanted to pay special tribute to the Treasury staff who have devoted their careers to tracking and disrupting the money flows of terrorists. They have quite literally created the discipline of financial intelligence from scratch," she wrote.
Yellen also paid tribute to those who lost loved ones in the attacks, adding that the events of 9/11 had altered "the way we think about our safety" as well as the way people work at the Treasury Department.
Harris Speaks (11:05 a.m.)
Vice President Kamala Harris took the stage to give remarks at the Shanksville ceremony remembering the people who died on Flight 93. She praised the courage of those on board and urged Americans to emulate the moments after 9/11, when the country came together to rebuild. 

"On the days that followed September 11th, 2001, we were all reminded that unity is possible in America. We were reminded, too, that unity is imperative in America. It is essential to our shared prosperity, our national security, and to our standing in the world," she said. "The work isn't easy, it never has been."
'Where is Trump?' Trending (10:55 a.m.) 
#WhereisTrump was trending on Twitter Saturday as people inquire about the former president's absence from memorial events held around the U.S. 
Past Democratic presidents Barack Obama and Bill Clinton joined Biden at the 9/11 memorial event in New York City. George W. Bush, the Republican commander in chief during the 2001 terrorist attacks, was at the Flight 93 National Memorial in Shanksville, Pennsylvania, with vice president Harris.
Trump is scheduled to host boxing matches including Evander Holyfield versus Vitor Belfort tonight in Florida, during which he will provide commentary. 
In an emailed statement, Trump praised the bravery of police, fire and first responders and called Sept. 11th, 2001 a "sad day." He also attacked the Biden administration's Afghanistan exit, saying "Biden and his inept administration surrendered in defeat."
President Bush Gives Speech (10:45 a.m.) 
Former President George W. Bush delivered remarks at the Shanksville ceremony remembering the 40 people who died on Flight 93. He hailed the bravery of the passengers and crew who brought down the plane and described the destruction he faced as he helmed a country under attack. He said the U.S. learned important lessons of vulnerability and bravery. 
"Twenty years ago, we all found -- in different ways, in different places, but all at the same moment -- that our lives would be changed forever. The world was loud with carnage and sirens, and then quiet with missing voices that would never be heard again.," he said.
He also appealed to the U.S. to embrace "the America I know," describing the spirit of service and togetherness that washed over the country in the days following the attacks. Today, "so much of our politics has become a naked appeal to anger, fear and resentment that leaves us worried about our nation and our future together."
Fourth and Fifth Moments of Silence (9:59 a.m. and 10:03)
A bell rang and two other moments of silence were observed for the fall of the South Tower of the World Trade Center and the Shanksville crash.
Pentagon Commemoration (9:50 a.m.)
U.S. Defense Secretary Lloyd Austin, an Afghan war veteran, paid tribute to the 184 people killed when a hijacked plane hit the Pentagon, saying "we do know that America will always lead."
"We must be tireless guardians of our ideals, as well as our security," Austin said in remarks at an outdoor ceremony at the Pentagon attended. "Because we cannot have one without the other."
Military Impact (9:45 a.m.) 
The two decades since the Sept. 11 attacks have been "incredibly emotional, exhausting and trying years" for the U.S. military, its families and its allies, Chairman of the Joint Chiefs of Staff General Mark Milley said during a ceremony at the Pentagon.
"We are all now conflicted with feelings of pain and anger, sorrow and sadness, combined with pride and resilience," he said. Milley said he's certain  the sacrifices of U.S. service members, CIA and FBI officers, police officers and firefighters and their families were "not in vain."
Biden Leaves Ceremony (9:44 a.m.) 
The Bidens, Obamas and Clintons leave the ceremony at Ground Zero. Biden will next head to Shanksville, Pennsylvania, where he will attend a ceremony to remember the people who died when the United Airlines Flight 93 -- headed to Washington -- crashed down into a field near Shanksville after passengers attempted to regain the aircraft from the hijackers.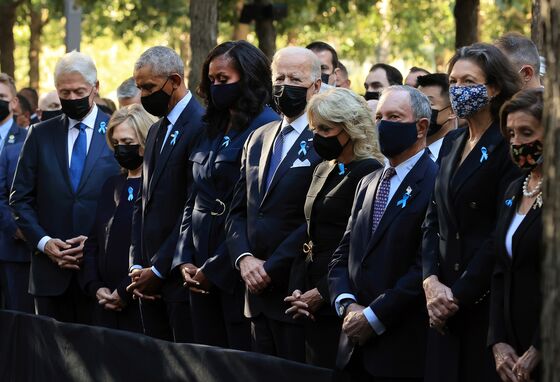 Pilgrimage to Ground Zero (9:22 a.m.) 
People from around the country traveled to New York to commemorate the anniversary. 
Therese Rockwell, 69, traveled from Dallas. "Life goes on purposely, it gives you hope, you walk around and see how everything has been washed new and made bigger and better, but you still want to keep the memory alive of this is hollow ground," Rockwell said as she stood in Lower Manhattan. 
Mike Sweet, 56, traveled from Maryland and said he worked for FEMA during the attacks. Today is the first time he's seen the memorial and the Freedom Tower since it was built. "I will never forget the look on everyone's faces," Sweet said as he stood on Church Street reflecting on what he saw 20 years ago.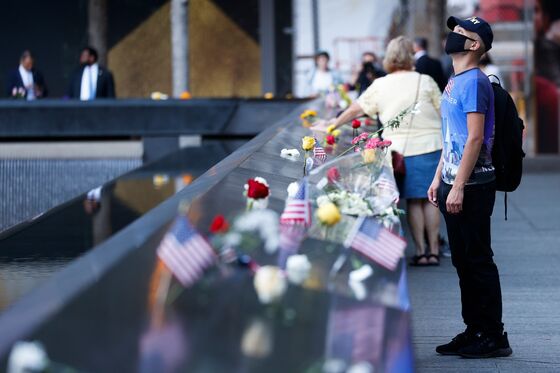 Springsteen Sings (9:07 a.m.) 
Shortly after the second bell rang to mark the moment when United Airlines Flight 175 struck the South Tower, rock legend Bruce Springsteen took the stage in a black suit and tie to sing an acoustic rendition of "I'll See You in My Dreams."
Moment of Silence Held (8:46 a.m.)
The memorial began with a moment of silence at 8:46 a.m. to commemorate the moment when the first plane, American Airlines Flight 11, hit the North Tower. Family and friends of the victims then began reading the names of nearly 3,000 people who died in the attacks, as well as during the 1993 bombing of the complex. 

"History will be remembered not as numbers and dates but as people," said Mike Low, who lost his daughter Sara Low, a flight attendant on American Airlines Flight 11.
Other intervals of silence included:
9:03 a.m. to mark the moment when United Airlines Flight 175 struck the South Tower
9:37 a.m. for the American Airlines Flight 77 attack on the Pentagon that damaged the government's military headquarters
9:59 a.m. to mark when the South Tower of the World Trade Center fell
10:03 a.m. for the crash of United Airlines Flight 93 in a field near Shanksville, Pennsylvania
10:28 a.m. to mark when the North Tower fell
Biden Arrives at Ground Zero (8:35 a.m.)
President Biden arrived at Ground Zero, and gathered with former President Bill Clinton, former Secretary Hillary Clinton, former President Barack Obama, former First Lady Michelle Obama, former Mayor Michael Bloomberg, New York Governor Kathy Hochul and New York City Mayor Bill de Blasio. 
Others attending include New Jersey Governor Phil Murphy, Connecticut Governor Ned Lamont and New York State Attorney General Letitia James, alongside victims' families. Eric Adams, the Democratic nominee for New York City's mayoral race, also attended. None of the officials are expected to speak at the ceremony, which will include tributes from friends and family of those lost.
There doesn't appear to be a single cloud over the city, and the sky is bright blue -- reminiscent of the clear skies 20 years ago. Attendees at the memorial are sitting and standing in a grove of trees. Attendees can hear the rushing of the water from the fountains that mark the footprints of the Twin Towers.