The Senate's Moment of Truth on Kavanaugh
Brett Kavanaugh and his supporters have one major hurdle left to clear, and it comes this morning.
A week after Kavanaugh's Supreme Court nomination teetered on the brink of collapse amid mounting sexual misconduct allegations, the Senate plans a climactic test vote that looks increasingly likely to pave the way for his confirmation tomorrow.
All eyes are on a trio of undecided Republicans, two of whom said yesterday an FBI investigation prompted by the accusations appeared to be thorough. Should both back the nominee, Republicans would have the necessary support in an otherwise party-line vote.
Kavanaugh would cement a conservative majority on the court, potentially for decades to come. Democrats worry he could provide the fifth vote to overturn the Roe v. Wade decision that legalized abortion. He could cast the decisive vote to outlaw affirmative action programs and slash environmental regulations, and be called on to rule on matters stemming from the special counsel's investigation of President Donald Trump.
Also at issue is the impact of the bitter nomination fight on the upcoming midterms. Republicans are growing increasingly confident that the partisan wrangling could fire up their base and erode Democrats' enthusiasm edge on Nov. 6.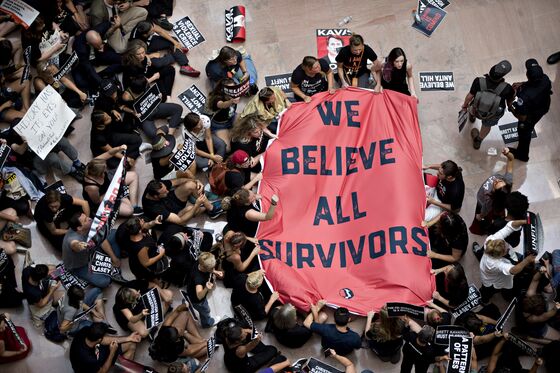 Chinese spy chips | Tech providers vying for a $10 billion Pentagon cloud-computing contract may come under added pressure to prove their systems are secure after a Bloomberg investigation found that China sneaked spy chips onto servers used by U.S. companies including Amazon.com, a top contender for the Pentagon award. Beijing denied the report, as did Amazon and other companies. U.S. National Security Adviser John Bolton said the alleged hacking showed Washington must pursue cyber operations of its own. 
Italy pivots to China | Italy's populist government is distancing itself from European Union allies on a new front – this time, by volunteering for a role in China's vast global infrastructure program, John Follain and Rosalind Mathieson report. After clashing with Brussels on migration and fiscal policy, Rome wants to sign up for the Belt and Road spending drive in sectors including railways, airlines, space and even culture. And it has scrapped the previous government's push to limit Chinese investment in strategic sectors.
The China clause | Prime Minister Justin Trudeau dreams of closer Canadian ties with China, but the deal he just made with Trump makes that harder to happen. The new trade accord between the U.S., Canada and Mexico includes a provision requiring one member to notify the others if it starts trade talks with a non-market economy. And if those talks lead to an agreement, the signatory could potentially be frozen out of the North American pact.
Baltic populism | A tiny EU nation is getting a taste of the populism that's upended politics from London to Rome as a brash new anti-establishment party is threatening to rip up the usual electoral script. A pledge by Latvia's KPV LV party to impose "radical change" has resonated with voters. The ballot comes just two weeks before local elections in Poland, where the euroskeptic ruling Law & Justice party is trying to seize the capital, Warsaw, from a pro-European opposition that's facing potential oblivion.
Proxy war | Pervez Musharraf warned that a proxy war between nuclear-armed rivals India and Pakistan would erupt in Afghanistan if U.S. forces withdraw. The former Pakistan military ruler said Islamabad wants a peaceful solution to the 17-year conflict next door, but he told Chris Kay in Dubai, where he lives in self-exile, that India is using Afghanistan as a base to foment separatist insurgencies and attacks in Pakistan.
Earlier today, the 2018 Nobel Peace Prize laureate was awarded to Congolese doctor Denis Mukwege and Nadia Murad, former captive of Islamic State turned global advocate, for their work against sexual violence.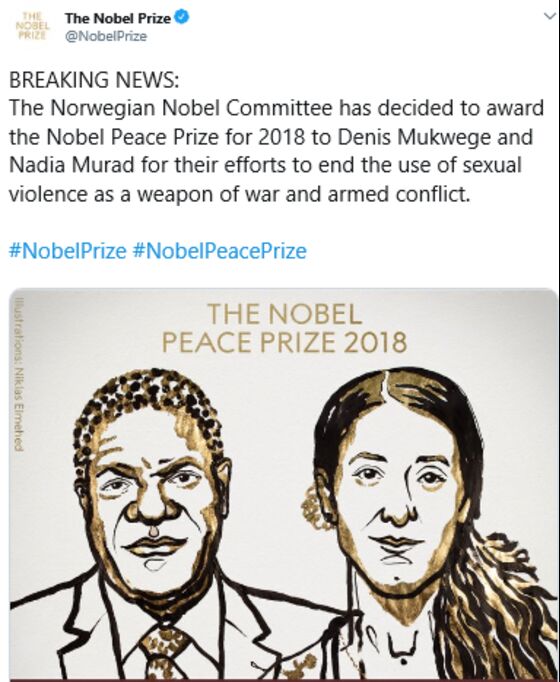 And finally ... Melania Trump visited the impoverished nation of Malawi yesterday, the first U.S. first lady to do so, on the fourth day of her tour of Africa. As Jennifer Jacobs reports, she spent time in a school in the capital, Lilongwe, with red-dirt floors, and handed out textbooks and soccer balls. Signs in its library said "Be Best," the first lady's campaign, and "ndine opambana" a translation into Chichewa. Two white people near the U.S. Embassy held a sign that read "welcome to Malawi notashithole!" – a reference to her husband's infamous disparagement of African countries.