The Nordic Bank Economist Who Could Soon Become a Head of State
(Bloomberg) -- At first glance, Gitanas Nauseda's job doesn't look much like a springboard to the presidency of a European Union member state.
He's spent almost two decades as chief economist for the Lithuanian unit of Sweden's SEB Bank AB, analyzing trends in the Baltic nation of 2.9 million people and sharing his views on growth, inflation and government policy. The 54-year-old antique-book collector remains a political novice.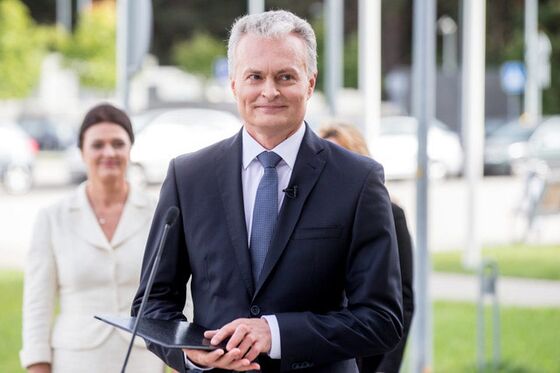 Nevertheless, frequent TV appearances as part of his role at the Stockholm-based bank have turned him into a household name. Nowadays, he's equally likely to pop up on history or cooking shows as the nightly news. Nauseda, who quit his job this month, hopes his public persona can carry him to victory in presidential elections on May 12. Polls suggest it will.
"This is a man who's been active on the public field for a very long time," said Rima Urbonaite, a political analyst at Romeris University in Vilnius, the capital. "People see him as a competent professional in his field, and a refined and intelligent person whose opinion matters."
Nauseda is looking to replace Dalia Grybauskaite, a staunch critic of Russia who's finishing her second and last term as president. While he deems her rhetoric in addressing the Kremlin antagonizing, he says he won't restore relations with Russia until it delivers on its commitments to peace in eastern Ukraine. Domestically, he hopes to act as a non-partisan figure who can cool increasing animosity between the major political parties.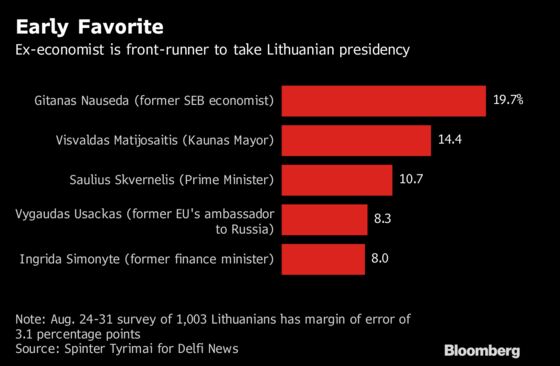 Although Lithuania's presidency lacks any specific role in the economy -- functions include setting foreign policy, and helping pick governments and central bank governors -- Nauseda is pledging to use it to boost the social safety net.
"The welfare state is the lighthouse to which the tired and lost ship of our state must sail," he said in his speech announcing his candidacy. With 20 percent backing, he has a five-point lead over his nearest rival, mayor of the second-biggest city of Kaunas. Other candidates include Vygaudas Usackas, a former ambassador to the EU.
But there's still a long way to go, and Nauseda's background and inexperience could still come back to bite him.
"He's not the right candidate -- he only suits a narrow part of society," Izolda Butkiene, a public administrator, said in Vilnius after Nauseda announced he'll run. "He knows little of ordinary people's lives and he's not suitable to become president. He'll only represent big capital."