The Gloves Are Off in Democrats' Battle With Trump
Donald Trump's showdown with congressional Democrats looks increasingly like it's careening toward a constitutional crisis.
The House Judiciary Committee has voted to hold Attorney General William Barr in contempt for failing to comply with a subpoena to provide the unredacted report of Robert Mueller's investigation into election meddling by Russia.
Democrats – from Speaker Nancy Pelosi to high-profile presidential contenders – are increasingly casting their battle with the administration as one between democracy and tyranny.
The president, acting on Barr's advice, formally asserted executive privilege yesterday to block the release of more information on Mueller's findings.
That raises the odds the dispute finds its way to the Supreme Court. Pelosi said yesterday that impeaching Barr is "on the table." The next step would be a full House vote on the contempt question.
Trump's advisers are betting the fight over the reach of Congress's investigative powers backfires for Democrats in next year's elections, so the White House is unlikely to change course. That leaves Democrats facing a complicated political calculation on how much further to push.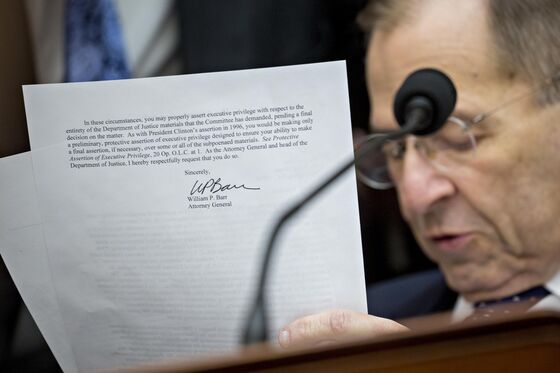 Not connecting | Trump's worldwide campaign to blackball China's Huawei is looking like a failure. Attempts to persuade other governments to exclude Huawei equipment from the next generation of super-fast 5G mobile networks have hit a wall – even among allies. No European nation has joined the call to boycott the company, not even the U.K., triggering a scolding from Secretary of State Michael Pompeo in London yesterday.
Another projectile | Less than a week after testing what weapons watchers believe was a short-range ballistic missile, North Korea has launched another round. The projectiles – which South Korea says appear to have been two short-range missiles – were fired from the northwest Sino-ri missile base. Top U.S. nuclear envoy Stephen Biegun is in Seoul for talks, as Trump's negotiations with Kim Jong Un's regime stall.
Surprising outreach | Saudi Arabia's push for a bulwark against Iran is spurring an olive branch to an old enemy. As Abbas Al Lawati and Donna Abu-Nasr report, Saudi is preparing to reopen its border with Iraq to trade, while a recent delegation to Baghdad pledged to invest $1 billion in development projects. "We want to help Iraq be a strong country," says Ibrahim al-Nahas, a member of the Saudi Shura Council's Foreign Affairs Committee.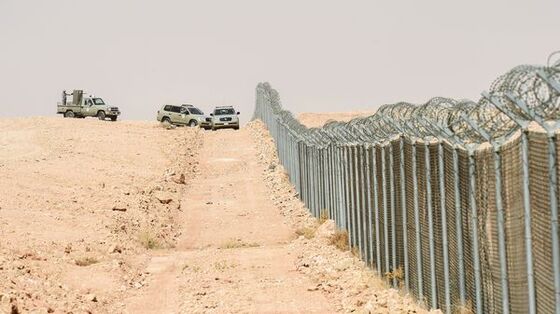 Popular heroes | Many politicians see Jose Domingo Perez, the face of a corruption probe in Peru that's implicated four former chief executives and dozens of officials, as an enemy. But for ordinary Peruvians tired of graft, he's a champion whose image adorns their T-shirts. Perez is just one of the lawyers and judges across Latin America cleaning up the mess from continent-wide bribery by construction giant Odebrecht.
Looking for answers | European Union leaders are in Romania today for a summit originally designed to be a post-Brexit relaunch of the bloc two weeks before European Parliament elections. Problem is, British Prime Minister Theresa May (who isn't attending) is still struggling to make Brexit happen and the EU has other issues to contend with, including an Iran nuclear deal hanging by a thread and a surge in populist sentiment across the continent.
South Africa is counting votes after an election that will determine if President Cyril Ramaphosa tightens his grip over the fractious ruling party enough to push through key economic reforms. The outcome will be known as soon as tomorrow.
Trump declared at a campaign rally last night in the presidential battleground state of Florida that China's leaders "broke the deal" he was negotiating on trade, ratcheting up his rhetoric ahead of talks already clouded by imminent U.S. tariff increases and Beijing's threats of retaliation.
Trump's legislative priorities include gaining approval for a trade pact with Mexico and Canada, promoting infrastructure investment, increasing border security and combating drug prices. But as Bloomberg Government reports, there's little incentive for a compromise between the White House and Democrats.
And finally....Who or what is Taoran Notes? Over the past week the blog, a hitherto obscure account on the WeChat social media platform, has become one of the few voices in China offering an opinion on Beijing's negotiating strategy on trade. Hong Hao, chief strategist at Bocom International Holdings in Hong Kong, speculates the blog is backed by the government. "Otherwise, how come it is allowed to publish comments on trade when nobody else can? The government is managing the public expectations."