The Ghosts of the Debt Crisis Still Haunt Europe: Balance of Power
The idea of Italy losing control of its gigantic debts is the nightmare scenario that haunted European leaders throughout the financial crisis that threatened to tear the euro region apart over the past decade.
Italy's 2.3 trillion euros in liabilities has led officials across Europe to question whether the euro area would be capable of rescuing its third-biggest economy.
The European Central Bank's quantitative easing program has worked hard to allay those concerns, pumping more than 2 trillion euros into the bond market over the past three years to ease financial tensions.
But Italy wound up right back where it started this week, with 10-year yields at their highest since 2014.
The ruling populist coalition has shown scant concern for the investors who'll have to finance its tax cuts and benefits or the warnings from the rest of Europe of the price of budget decadence.
"I don't give a damn" about threats from outsiders, Deputy Prime Minister Matteo Salvini said today on Canale 5 television. "I answer only to Italians."
With voters in the north as tired of bailouts as those in the south are of budget rules, the politics of solidarity have only become more complicated. The question is how intense the market pressure has to get before the Italian government comes into line.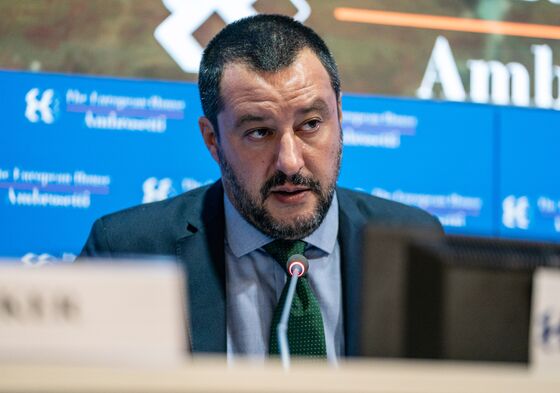 Trump tax probe | New York state authorities have opened an investigation into claims that Donald Trump and his family created their real estate empire through "instances of outright fraud," evading taxes on hundreds of millions of dollars. A Trump lawyer called the allegations, reported by the New York Times, "100 percent false." The paper also reported the president received vastly more financial assistance from his father than he's previously stated.
Chasing equality | Senior members of Singapore's business, political and legal elite have backed a renewed push to overturn the colonial-era section of the country's penal code that criminalizes gay sex. It comes after last month's landmark ruling in India that legalized homosexuality, and follows a Hong Kong court decision to allow visas for same-sex spouses. The government, along with Singapore's influential religious groups, doesn't support any change to section 377A, which was introduced by the British in 1938.
'Womenomics' stalls | Japanese Prime Minister Shinzo Abe appointed only one female minister — Regional Revitalization Minister Satsuki Katayama — when he reshuffled his cabinet at the start of an historic term as ruling party chief. As Isabel Reynolds reports, the male-dominated line-up that features no major changes to the status quo raises new questions about Abe's policies to advance the role of women in Japanese society.
Islamist war | Militants affiliated to Islamic State are stepping up attacks in northeastern Nigeria, threatening to tarnish President Muhammadu Buhari's claims of success against the nine-year-old insurgency as he seeks re-election in February. The fighters are backed by the global jihadi movement and are part of a network of groups that have struck targets across West Africa and engaged United Nations and French military forces.
Blue-wave bellwethers | Competitive U.S. House districts that will serve as early election-night indicators of a potential Democratic surge stretch from upstate New York to Florida and include economically struggling former industrial hubs, affluent suburbs and diverse urban regions. Sahil Kapur takes a closer look at the races Democrats will be watching on Nov. 6 to determine if they should break out the champagne or prepare for disappointment.
Amid an FBI probe of sexual assault allegations against Brett Kavanaugh, Trump last night mocked the Senate testimony of the Supreme Court nominee's primary accuser at a rally, suggesting that certain details she didn't recall were evidence she wasn't telling the truth.

Britain and the European Union will begin a frantic week of diplomacy today aimed at thrashing out the final shape of the Brexit deal. U.K. Prime Minister Theresa May will give her speech at the annual Conservative party conference in Birmingham just before noon.

U.S. Secretary of State Michael Pompeo will travel to Pyongyang on Sunday to meet with Kim Jong Un and prepare for a second summit between Trump and the North Korean leader.
And finally … One of China's most famous actresses and companies she worked with were told to pay $129 million in fines after a tax-evasion probe. "X-Men" star Fan Bingbing, who mysteriously disappeared from the public eye in June, was personally fined $70 million. Her travails highlight the increasing scrutiny local authorities are paying her industry — China is the world's most-regulated major entertainment market. Fan apologized for her actions in her first Weibo social media post in months, calling herself deeply ashamed.