The FBI's Effort to Insulate Itself From Trump
Faced with a president who places a premium on loyalty, the FBI is gently asserting its independence.

Donald Trump is seeking to pull the bureau into two of the most heated political controversies of his tenure: The probe of Russian meddling in the 2016 election and the sexual assault allegations that have jeopardized Brett Kavanaugh's Supreme Court nomination.
But FBI officials aren't acquiescing to Trump's demand for the "immediate declassification" of some materials related to the Russia investigation and are likely to push for redactions. And the agency is willing to probe the claims against Kavanaugh — despite Trump's assertions to the contrary — but it can't do so without a formal White House request, Chris Strohm reports.
The tensions add to an already fraught relationship between the president and the law enforcement agencies he oversees and who he and his allies have accused of political bias. Trump reportedly unsuccessfully sought a loyalty pledge from former FBI Director James Comey, who he later fired. He has also repeatedly attacked Attorney General Jeff Sessions for failing to quash the Russia investigation.
Trump's actions are testing the mettle of FBI Director Christopher Wray, who has vowed to defend the agency's work from political manipulation.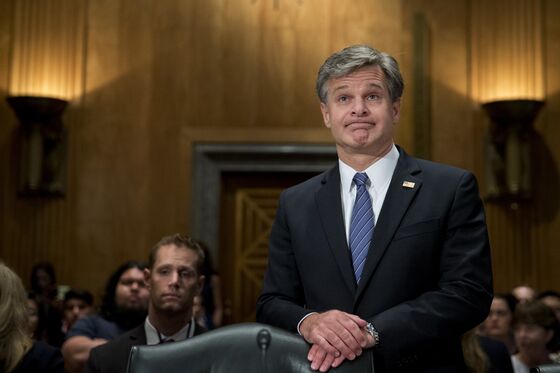 VW out of Iran | The Trump administration has persuaded Volkswagen to comply with sanctions on Iran and end almost all of its business in the country, Nick Wadhams reports. The deal is a win for the president and a symbolically charged step in undercutting European Union efforts to keep the 2015 nuclear pact alive.
Easy victory | Prime Minister Shinzo Abe won a third consecutive term as the head of Japan's ruling party, taking him a step closer to becoming the country's longest-serving premier. Overcoming scandals that prompted calls for his resignation this year, the victory clears the way for Abe to carry on with ultra-loose monetary policy that has helped Japan achieve its strongest period of economic growth since the 1990s.
Slashing rates | China plans to cut average tariff rates on imports from most of its trading partners as early as next month. By reducing duties even as it retaliates against Trump's trade war with higher charges on some U.S. goods, the move will lower costs for consumers. It also follows through on long-stated goals to boost imports and light a fire under domestic consumption in the world's second-largest economy.
Making nice | Canada is extending an olive branch to Saudi Arabia following a diplomatic spat triggered by a tweet on Saudi human rights. The Canadians want their foreign ministers to meet during the UN General Assembly in New York. The stakes are high after the Saudis expelled Ottawa's ambassador and issued an order to freeze new deals for Canadian companies and end an agreement to provide manpower for Canada's medical system. 
Turkey in Jerusalem | Turkish President Recep Tayyip Erdogan is boosting investment in east Jerusalem and championing the Palestinian cause as part of his ambition to establish Turkey as the foremost proponent of political Islam and resurrect its past influence. As Jonathan Ferziger and Fadwa Hodali write, his growing footprint is unsettling the three governments with a direct stake in the contested city: Israel, the Palestinian Authority and Jordan — as well as Saudi Arabia.
European and U.K. leaders hold a summit in Salzburg, Austria today less than two months before they're due to seal a deal on Brexit. Last night, European Commission President Jean-Claude Juncker said an agreement was still  "far away," while Britain's Theresa May told her colleagues to forget about a second referendum.
A group of conservative U.S. House Democrats plans to release a policy platform today designed to appeal to the rural voters who've mostly abandoned the party. They're focusing on trade, health care and other perceived weak points in Trump's agenda.
Trump recently had a suggestion for Spain's foreign minister on how to combat Europe's migration crisis: Build a wall across the Sahara.
And finally… Authorities in Liberia say $100 million in local currency, the equivalent of almost a fifth of the current budget, may have gone missing after arriving at the port of Monrovia from foreign printers. An investigation is under way, part of an anti-corruption drive former soccer star George Weah promised when he won the presidency in January in the West African nation, which was founded for freed American slaves in 1822. Among the officials the government has banned from leaving the country are a former central bank governor and a son of Weah's predecessor, Ellen Johnson Sirleaf.