The Forgotten Lessons of World War I
(Bloomberg Businessweek) -- In November 1918, Europe's imperial powers negotiated an end to the global conflict that ravaged the continent and decimated a generation. The map of Europe was subsequently redrawn and independent states born. A century later, the continent's struggle is over its future as a unified political entity with shared values rooted in the bloody lessons of two world wars.
The European Union is increasingly being called into question by nationalists from Italy in the southwest to Poland in the poorer northeast, while the U.K. already is on its way out. The task of defending the integrationist project, meanwhile, has fallen to the persistent voice of French President Emmanuel Macron. The challenge will be evident in contrasting commemorations on Sunday, Nov. 11: In Paris, Macron will showcase his multilateralism while hosting world leaders to mark the centenary of the World War I armistice; in Warsaw, the celebration of Poland's hard-won rebirth as a country in 1918 risks being hijacked by the far-right nationalist groups that have been emboldened by the ruling party.
The opposing forces—integrationists and nativists—have parallels in the aftermath of World War I, as well as the events that led to World War II. Indeed, the war that crippled the Kaiser's Germany and broke up the Austrian and Ottoman empires only led to more conflict and division—resulting in the rise of fascism, World War II itself, and the communist takeover of the East including Poland, Czechoslovakia, and Hungary.
Macron declared, "Those who do not see what is going on around us are sleepwalking." He warned, "Nobody, not even the wealthiest and the best-educated, blocked the rise of Hitler in one country and Mussolini in another. I want to draw everyone's attention to this point." Indeed, International Monetary Fund Managing Director Christine Lagarde, a former French finance minister, urged leaders this week to avert "calamity" by listening "to the echoes of history and avoid replaying the discordant notes of the past."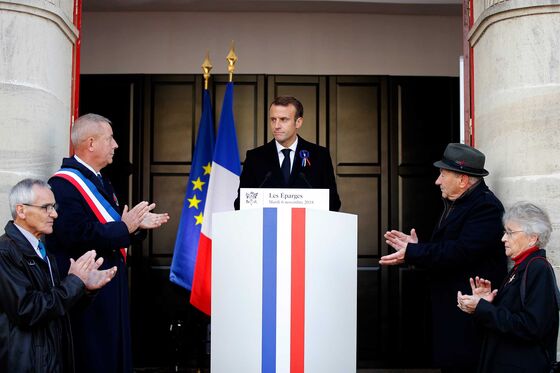 One such echo is the demise of the multiethnic Austro-Hungarian Empire immediately after World War I, according to Karel Schwarzenberg, who served as adviser to former Czech president and anti-communist dissident Vaclav Havel. The EU, the continent's most recent version of an imperious, if not imperial, amalgamation of cultures and languages, is relatively young. It's managed six decades of existence in all its forms. But there are ominous signs of mortality.
"Either Europe will be able to somehow come together and make the needed reforms or it faces the destiny of old Austria," says Schwarzenberg, a former Czech foreign minister. While the empire that grew out of the 19th century Habsburg dynasty was wealthy and well-managed by the standards of the day, it broke apart because of its inability to modernize. "So Austria in that sense committed a suicide," he says. "And if Europe won't be able to reform, the same thing can happen to it."
The main challenge is to balance calls to hand back more powers to national parliaments with those for deeper integration, particularly where borders and money are concerned. Macron has taken it upon himself to make sure that the latest European empire's disintegration doesn't come to pass. France, along with Germany, has been trying to keep the EU moving toward a closer alliance and away from the Donald Trump-style nativism and protectionism that's taking hold and which found one of its most potent expressions in Brexit.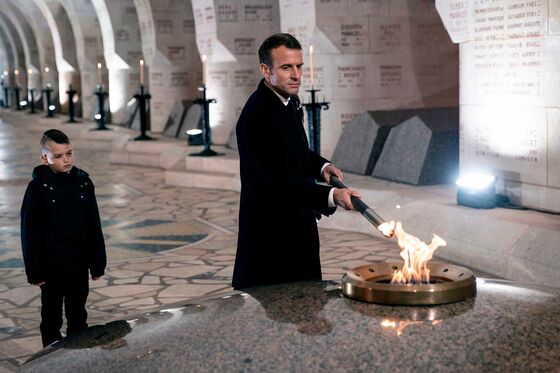 It's been a priority for the 40-year-old Macron since before he defeated the far-right National Front to take the presidency in 2017. The French commemorations on Nov. 11, along with Macron's weeklong tour of World War I battlefields, can be seen as part of that campaign. It will also encompass the runup to European parliamentary elections in May that will pit Macron's proposed "progressive alliance" against the likes of Italy's Matteo Salvini and Hungary's Viktor Orban.
Macron, however, appears more isolated than ever, with German Chancellor Angela Merkel, the grand dame of European crisis-fighting, having announced plans to step down after this term. He's facing stiff resistance from the empire's east: EU countries in the former communist bloc have objected to Macron's idea of punishing them for undermining democratic institutions such as the public media and courts. Czech Prime Minister Andrej Babis said he was ignoring the French president's preaching. "Macron is talking too much about Europe," he said.
Indeed, Macron's self-righteousness may yet imperil his entire campaign, further inflaming the ranks of EU-skeptics, according to John Keiger, a Cambridge University professor who authored the 1983 book France and the Origins of the First World War. "His hectoring tone is upsetting central and eastern European nations and is increasingly antagonizing nations closer to home, such as Italy," says Keiger. "For the moment his call for a progressive alliance of Europeans to combat rising nationalism is not meeting with great success."
That said, European institutions have taken unprecedented measures against Poland and Hungary, the leaders of the rebel camp in the east railing against immigration and EU interference. Hungarian Prime Minister Orban and his self-proclaimed "illiberal democracy" were excoriated in the European Parliament in September, with lawmakers voting to impose stricter monitoring of the country. Orban's foreign minister called it a "blatant show trial." The European Court of Justice last month ordered Poland to halt its overhaul of the Supreme Court, part of the government's power grab.
​The political divide is buttressed by economic disparity, despite the EU pumping eye-watering amounts of aid into the former Eastern bloc. Poland, the biggest eastern economy, gets more money on a net basis than anywhere else, yet its gross domestic product per head of population, at $13,800 based on World Bank figures, is less than half the EU average and is still way behind Greece, whose financial meltdown wiped out a quarter of its economy. No former communist state has got close to the EU average three decades after the fall of the Berlin Wall.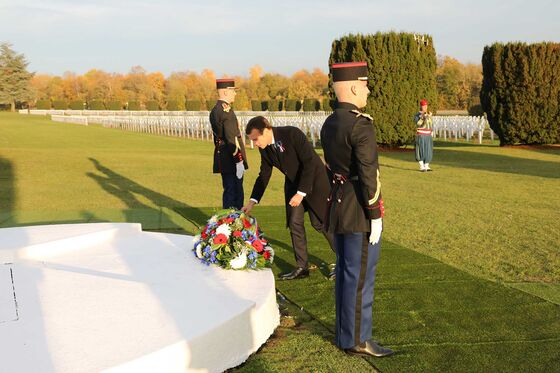 The Nov. 11 Independence Day in Poland will be as much a rallying cry to stand up to Macron's vision for Europe as a centenary celebration. Last year saw marchers with slogans such as "Pure Blood" and "Europe will be white or uninhabited." Jaroslaw Kaczynski, the power behind the ruling Law & Justice government, told supporters the day before that to be Polish is "someone who shows the sick Europe of today the path back to health, to fundamental values, to true freedom, and to the strengthening of our civilization based on Christianity."
This year, Kaczynski will be joined by his hand-picked prime minister and the president of the country—who in September called the EU an "imaginary union from which Poles derive few benefits"—at Warsaw's central war memorial. Separately, protesters will gather for a show of Polish nationalist strength, with far-right groups from Sweden, Italy, and Hungary invited to attend. President Andrzej Duda, however, has said he will have no part in the right-wing parade. It since was banned by the Warsaw mayor.
In Paris, Macron will play host to Trump, Russia's Vladimir Putin, Recep Tayyip Erdogan of Turkey, and dozens of other world leaders. Earlier this week he unveiled a tribute to fallen soldiers at Morhange, in northeastern France, with a plaque stating, "Their sacrifice obliges us to defend peace." The patterns of the past, however, have a habit of catching Europe unawares, says Schwarzenberg, who, at 80, appears resigned to the fact that history does indeed repeat itself. "People will never learn—never. Historical events can't be passed on from one generation to another," he says. "We can't transfer experiences from war, only the prejudices. And prejudices will remain eternal."
When the Triple Entente—Britain, France, and Russia—began its fight against the Triple Alliance—Germany, Austria-Hungary, and Ottoman Turkey—in 1914, patriotic proponents called the conflict "the war to end all wars." It had been triggered by the assassination of Austria's Archduke Franz Ferdinand by a Bosnian Serb seeking to end imperial rule. The fighting finally stopped on Nov. 11, 1918. It didn't end wars. A second of even more horrific proportions would emerge.
"History can stammer if we are not careful," Macron said on Nov. 6 in the French town of Eparges, where bomb craters are still visible at adjacent World War I battlefields. "The same demons are still running deeply in our societies, ready to do their work of chaos and death." —With Andrea Dudik
To contact the editor responsible for this story: Howard Chua-Eoan at hchuaeoan@bloomberg.net, Alan Crawford