Thailand Unveils $16 Billion Borrowing to Fund Covid Relief
Thailand's King Maha Vajiralongkorn endorsed a $16 billion borrowing plan to shield Southeast Asia's second-largest economy from the impact of a raging coronavirus outbreak that's threatening a nascent recovery and plans to reopen borders to tourists.
The government can borrow 500 billion baht ($16 billion) in the local or overseas markets to finance Covid relief measures for the public and businesses, according to a Royal Gazette announcement published Tuesday. The new debt, raised as loans or through sales of other securities, has to be wrapped up by September 2022, it said.
While the amount cleared by the king was less than the 700 billion baht approved by the Cabinet last week, Finance Minister Arkhom Termpittayapaisith said the government still has room to raise funds from a previously approved borrowing plan. The additional government spending could add 1.5 percentage point to Thailand's gross domestic product, Arkhom said.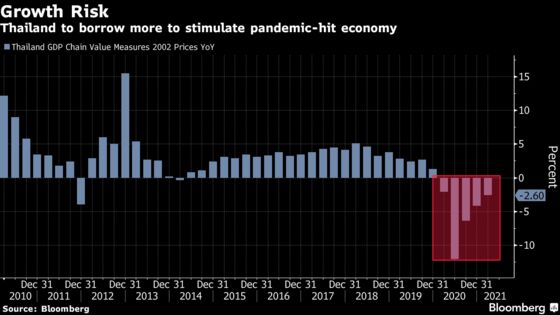 The new debt will help fund relief measures aimed at the small- and medium-size enterprises that are struggling to access credit, said Danucha Pichayanan, secretary-general of the National Economic and Social Development Council.
The nod for additional borrowing will help Prime Minister Prayuth Chan-Ocha extend a slew of fiscal-stimulus measures for individuals and businesses as he grapples with the deadliest Covid wave to hit the nation. With the tourism-reliant nation's plans to reopen borders from July hurt by a slow vaccination program and resurgence in outbreaks elsewhere, the Bank of Thailand has called for more targeted fiscal support to spark an economic recovery.
"The government urgently needs additional budget to counter the impact of the new outbreak, but is restricted by the limited budget," Arkhom said. "This is also a case where action must be taken for the benefit of public safety, national economic security, and to prevent public disasters. It is an emergency situation with an inevitable urgency."
A total of 1.25 trillion baht will be available from various sources to deal with the impact of the pandemic, according to Deputy Prime Minister Supattanapong Punmeechaow. Thailand may be able to control the current outbreak, during which the caseload has more than quadruple since early April, within the second quarter, he said.
The new outbreak has weakened the prospects for a recovery, with Thailand's central bank and the main economic-planning agency both warning of risks to their growth forecasts from potential delays to tourism reopening. The economy, which contracted 2.6% in the first quarter of the year, may expand between 1.5% and 2.5% this year, compared with the 2.5%-3.5% forecast in February, the planning agency said last week.
Breakdown of how 500 billion baht will be spent:
30 billion baht to be used for purchase of drugs, vaccines, medical equipment, and to pay for treatment of Covid patients
300 billion baht for reducing cost of living of people affected by the outbreak
170 billion targeted at the recovery of economy and the society by promoting investment and consumption
The public debt management office will not borrow the newly-sanctioned amount at one-go and will stagger funds in a manner that will not crowd out private borrowers, its chief Patricia Mongkhonvanit said in a statement. The borrowing will be through a combination of financial instruments -- short- and long-term -- at reasonable costs and risks, she said.
While Thailand's public debt-to-GDP ratio may rise to 58.6% by September with the additional borrowing, the government will manage public debt with prudence and maintain fiscal stability, Patricia said.