Key Thai Political Parties Select Prime Minister Candidates
(Bloomberg) -- Thailand's key Pheu Thai and Democrat parties chose their prime ministerial candidates ahead of the general election due in March following more than four years of military rule.
The Democrat party picked former Prime Minister Abhisit Vejjajiva as its only candidate at a meeting Friday in Bangkok. The main opposition Pheu Thai party late Thursday chose Sudarat Keyuraphan, Chadchart Sittipunt and Chaikasem Nitisir, all of whom were Cabinet ministers in former administrations.
The March 24 election will be the first since the military seized power in 2014, an intervention that unseated a Pheu Thai-led administration headed by Yingluck Shinawatra, sister of exiled former premier Thaksin Shinawatra. The looming vote puts the focus back on political risk in a country with a history of polls followed by demonstrations and coups.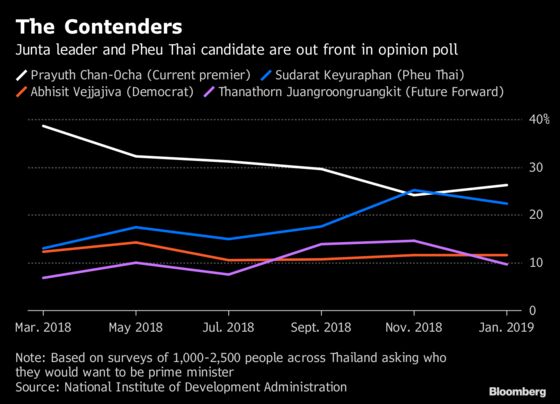 Thaksin or his allies have won every election dating back to 2001, only to be dislodged by the courts or the military.
Sudarat is currently the only woman to be selected by a major party as a premier candidate. Parties can submit up to three nominations.
She and junta leader Prayuth Chan-Ocha are out front in a National Institute of Development Administration poll asking people whom whey would want to be prime minister.
Earlier this week, a recently created party seen as supportive of the military government picked Prayuth as one of its prime ministerial candidates. The other two Palang Pracharath party picks were former Industry Minister Uttama Savanayana and Deputy Prime Minister Somkid Jatusripitak.
Former army chief Prayuth seized power in 2014 after a prolonged period of sometimes bloody unrest, ushering in one of the longest periods of military rule in modern Thai history.