Thai Coronavirus Cases Jump to 25 With One Seriously Ill
(Bloomberg) -- Follow Bloomberg on LINE messenger for all the business news and analysis you need.
Thailand said it detected six more novel coronavirus cases, taking its total to 25, and that one of the people is seriously ill.
Four of the new cases are Thais, and the other two are Chinese, Suwannachai Wattanayingcharoenchai, director general of the Department of Disease Control, said in a briefing Tuesday in Bangkok.
Among the four Thais, two are hire-car drivers who picked up Chinese passengers, and the other two are a couple who recently returned from a trip to Japan, Suwannachai said.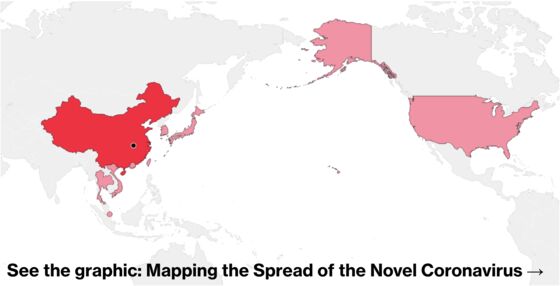 One of the new Thai cases is a 70-year-old who has pneumonia as well as the corornavirus infection and is in a serious condition, the disease control official added.
Seventeen of the overall 25 cases remain hospitalized. Thailand's confirmed case count is currently the highest outside China.
The Southeast Asian nation has seen some local transmission, and there could be an "epidemic" in one to two months, where new cases emerge daily, Tanarak Plipat, a deputy director in the Health Ministry, said at a seminar. The government is trying to avoid that outcome, he said.
"It may not happen at all," Tanarak said. "But we're prepared for the worst."
The outbreak of the disease has delivered a severe blow to Thailand's tourism industry, undermining the outlook for the country's economy.