Thailand Premier Sees Worst Economic Crisis Lasting Through 2021
(Bloomberg) -- Thailand's worst economic crisis on record will endure through at least the end of next year and the government is committed to supporting businesses overcome the blow from the coronavirus outbreak, according to Prime Minister Prayuth Chan-Ocha.
"The economic crisis we're facing right now won't go away anytime soon," Prayuth said in comments prepared for a televised speech later on Thursday. "When the world hurts, Thailand also hurts too because our economy relies on the world economy. We rely on foreign visitors, and we trade with countries all over the world."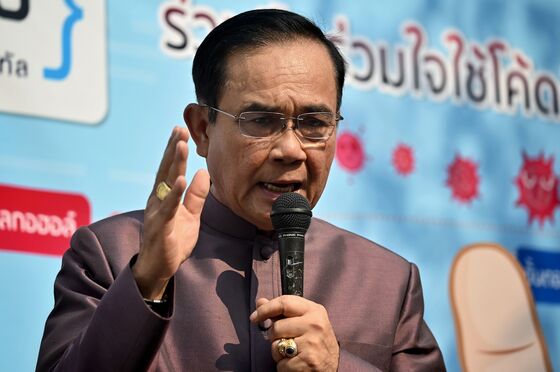 Thailand's economy is headed for its steepest contraction on record after the pandemic battered its tourism and manufacturing sectors. While Prayuth's administration has managed to control the outbreak and approved the resumption of most business activities, the premier is facing risks from mounting demonstrations by student groups demanding greater democracy and less power for the monarchy.
Prayuth said the government will continue to support businesses and workers affected by the pandemic, giving incentives to companies to continue employing staff and create jobs for fresh graduates entering the market.
Thailand has announced stimulus worth $60 billion to revive its economy forecast by the Finance Ministry to contract 8.5% this year. Prayuth last week revamped the Cabinet to install a new economic team led by Deputy Prime Minister Supattanapong Punmeechaow and Finance Minister Predee Daochai.