Thai Junta Chief Says He'll Decide Political Future by September
(Bloomberg) -- Thailand's Prime Minister Prayuth Chan-Ocha said he may decide whether to enter the political fray in September while reiterating that his military government is committed to holding an election early next year.
In an interview in London on Thursday, Prayuth said he was considering joining a political party to ensure that his policies continue under the new administration. The former army chief seized power in Thailand in May 2014 after a prolonged period of sometimes bloody unrest, pledging to restore stability and revamp the country's political system.
"It depends on the Thai people," Prayuth, 64, said when asked if he would join a political party. "When I made overseas trips, some Thai people I met want continuity of my policy in Thailand."
"I can probably give you my answer in September," he added. "I might have more clarity then. I still have time."
The current stretch of military rule is one of Thailand's longest since the 1970s, in a nation with frequent coups since the end of absolute monarchy in 1932. Prayuth has unfettered executive power as head of the National Council for Peace and Order, the formal name of the junta, and politicians have speculated he may seek to retain power after the election.
In the years before the most recent army takeover, fissures in Thai society triggered violent clashes between urban royalists and rural backers of exiled former leader Thaksin Shinawatra. Allies of Thaksin have won every election dating back to 2001, only to be unseated by the courts or military.
Prayuth's administration has repeatedly pushed back the timeline for elections, most recently to February 2019. Earlier this week, Prayuth said the pending coronation of King Maha Vajiralongkorn would precede the polls, stirring fresh doubt about the latest schedule.
In the interview, Prayuth said the royal event won't affect the plan for a poll possibly in February. Under Thailand's constitutional monarchy, the king is the head of state and all legislation requires his seal of approval.
"I think we can work on both in tandem," Prayuth said of the election and the coronation. "We just want to make sure they go smoothly because both events are important."
The baht gained 0.2 percent to 32.886 per dollar as of 2 p.m. in Bangkok after Prayuth reaffirmed the election timeline.
The next vote will be under a military-backed constitution, which critics say gives appointed soldiers, judges and bureaucrats the power to stifle elected politicians. The charter makes it possible for Prayuth to be reappointed as premier in certain circumstances -- even if he doesn't join a political party.
It's not clear whether a fresh election will inspire confidence in Thailand's outlook, or revive memories of its destabilizing cycle of violent protests and military intervention to oust elected governments. While economic growth is at a five-year high, the military government faces a fight for support as people in rural areas say they aren't seeing the benefits of the expansion.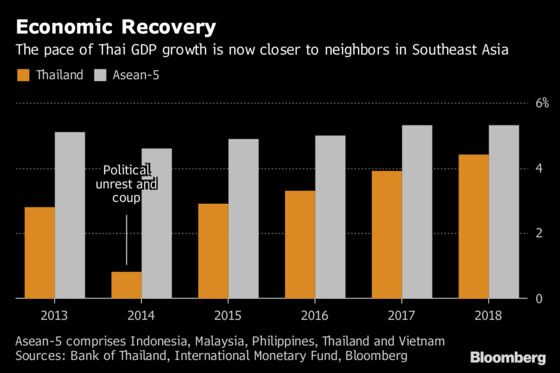 While the European Union had accused Prayuth's government of severely curtailing civil rights and freedom of expression, in December it said it would pursue a gradual political re-engagement because of the prospect of an end to military rule. The junta had banned political activity after seizing power and continues to impose the prohibition, although it has permitted parties to make some initial preparations for elections.
Prayuth visited British Prime Minister Theresa May on Wednesday and meets French President Emmanuel Macron on Monday. He and Macron are expected to preside over the signing of an agreement for Thailand to purchase a satellite from Airbus SE.
Prayuth said the political system implemented by his government is intended to stop the cycle of unrest and coups.
"We don't want to see intervention in the future," he said. "The system that we designed and put in place now is to make sure that Thailand will become a fully functional democratic country."