Thai Court Stops Shy of Granting LGBTQ Marriage Rights
(Bloomberg) -- A court in Thailand has ruled that laws should be expanded to guarantee greater rights for lesbian, gay, transgender, bisexual and queer individuals but stopped short of granting marriage equality.
The Constitutional Court said the current marriage bill that only recognizes heterosexual couples is constitutional, but added the government and parliament "should draft laws that guarantee the rights for gender diverse people," according to a statement on Wednesday. 
The court ruling could pave the way for the recognition of same-sex partnership in Thailand, a Southeast Asian country that has a gay-friendly image but inconsistent laws on LGBTQ rights.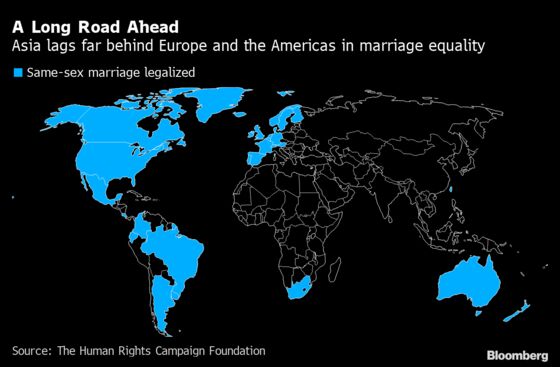 The Thai government has been working on a bill for the past decade that would allow same-sex unions to adopt children, jointly manage assets and liabilities, and inherit from their partners. But rights groups have criticized the bill for not granting homosexual couples the same rights heterosexual couples enjoy, and pushed for marriage equality.
If Thailand amended its marriage laws to allow same-sex couples to register, it would become the second place in Asia to allow such unions after Taiwan legalized them in 2019.