Tense Nigeria Hopes for Second Time Lucky After Botched Vote
(Bloomberg) -- Nigerian officials are scrambling to ensure delayed general elections go ahead on Saturday, with rival parties already questioning the credibility of the vote and concerns rising about widespread disputes over the results.
The presidential and parliamentary election, postponed just hours before voting was meant to start on Feb. 16, poses a major test for Africa's biggest democracy and largest oil producer after a bitter campaign between the front-runners, President Muhammadu Buhari and his main challenger, Atiku Abubakar. Both condemned the delay and accused each other of trying to rig the vote.
"The rescheduling comes at great economic and psychological cost," said Nnamdi Obasi, an analyst with the Brussels-based International Crisis Group. It's "sown conspiracy theories around the country, increasing the likelihood of disputes and violent incidents, both during and after the polls."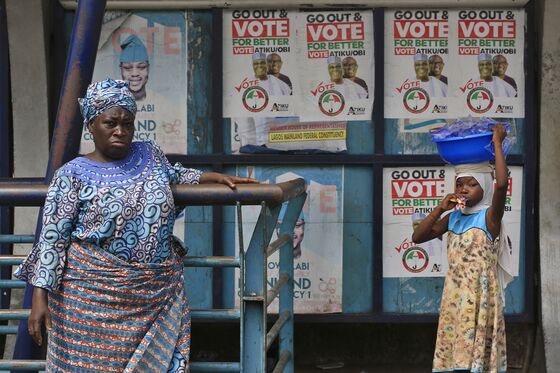 The Independent National Electoral Commission blamed logistical problems, saying it hadn't been able to distribute voting materials on time. The challenge of preparing Africa's biggest-ever exercise in democracy -- involving 84 million registered voters and 23,300 candidates, including those in state elections -- is enormous, said Chairman Mahmood Yakubu.
The Lagos Chamber of Commerce estimated that the cost to the economy from disruption of business would be around $1.5 billion. The stock market lost over $600 million of value on Monday as investors fretted about the deferment, though it's since recovered some of that.
The parties of former army general Buhari, 76, and Abubakar, a 72-year-old businessman who served as vice president between 1999 and 2007, accused each other of being behind the postponement. The ruling All Progressives Congress said its rival People's Democratic Party wanted more time to campaign in states where it's lagging. The PDP said the government was bent on suppressing voting numbers in opposition areas.
"They know they are about to lose," Senate President Bukola Saraki, a PDP member who's often clashed with Buhari in recent years, said in an interview Wednesday at his home in Abuja. "They are buying time. Maybe with more time they can win. I'm confident that we're going to win."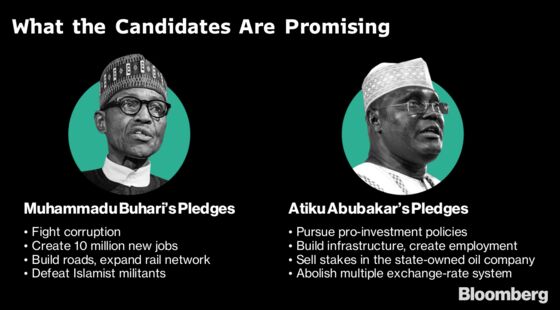 Many Nigerians had traveled to their hometowns to vote and may not be able to afford trips for a second weekend running.
"A depressed turnout is perceived to favor the APC, and would seem to be more likely following the postponement," London-based Fitch Solutions, which was predicting a win for Abubakar last week, said in a note Tuesday. "A narrow victory for Buhari, particularly on a low turnout, could exacerbate voter concerns over the fairness of the election and encourage unrest in PDP strongholds."
Some events in the run-up to the election, such as Buhari's suspension of Chief Justice Walter Onnoghen, ostensibly on corruption charges, have brought increased scrutiny from the U.S., the U.K. and the European Union. The Supreme Court would likely have the final say if the results faced a legal challenge.
Buhari, who led a military government for a short period in the 1980s before coming back to power four years ago via an election, said he'd told security officials to be "ruthless" with anyone trying to rig the vote.
"Anybody who thinks he has enough influence in his locality to lead a body of thugs to snatch ballot boxes or disturbs the voting system will do so at the expense of his own life," Buhari told reporters on Monday.
House of Representatives Speaker Yakubu Dogara, a PDP politician, criticized the remarks, saying Nigeria risked becoming a "full-blown dictatorship."
"In an atmosphere where you have a military that is often trigger happy, the president issuing orders of that nature is quite worrisome," said Clement Nwankwo, executive director of the Abuja-based Policy and Legal Advocacy Centre. "The law is quite clear on the kind of punishment on conviction, and that punishment is not summary execution."
Protecting the materials and delivering them to voting points takes a combination of agencies including the central bank, the military and the police. Air force planes usually fly the materials to different parts of the country, where they are kept in regional central bank vaults before being moved to localities under armed guard.
INEC said some of its eastern offices were burned in acts of sabotage, but it denied the vote was delayed for political or security reasons.
The election body still has plenty to do before voting starts, including finishing the deployment of ballot papers to the 120,000 polling units. It said it has finished re-configuring about 180,000 machines that read people's voting cards and were designed to work only on Feb. 16.
Yakubu told reporters Thursday that INEC was "fully on course" for the election and that 72.8 million voter cards had been distributed, representing 87 percent of registered voters.
"The suddenness of the announcement last Saturday has itself created an atmosphere of uncertainty," said Leena Hoffman, an associate fellow at London-based think tank Chatham House. "Democracy in Nigeria will suffer a profound setback if INEC does not quickly reverse growing perceptions that it lacks transparency and competence."