As Brazil Election Looms, Tense Entrepreneurs Put Plans on Hold
(Bloomberg) -- Brazil's divisive and uncertain presidential election is forcing the country's businesses to put their financial plans on hold, according to the chairman of pulp and paper producer Klabin SA.
Horacio Lafer Piva, a former head of the Sao Paulo industry group Fiesp, said Brazilian businessmen are concerned that polarization between left and right could jeopardize the approval of a meaningful pension reform, aggravating an already difficult fiscal situation.
"All entrepreneurs are tense," Piva said in an interview at Bloomberg's offices in Sao Paulo. "No one knows what is going to happen."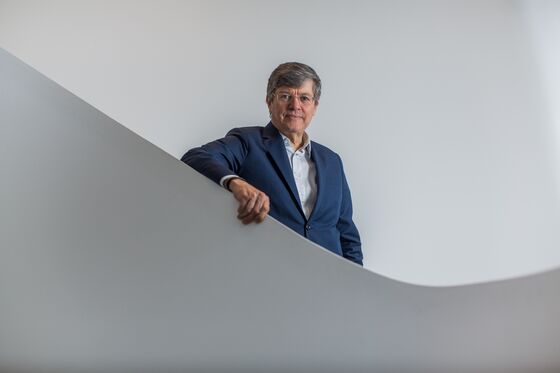 Klabin, Brazil's largest paper packaging producer and exporter, won't resume decisions on investments until after the election, Piva said, adding that there are a lot of projects on hold in Latin America's largest economy.
Thirteen candidates are running for the presidency, but if no candidate wins a majority in the first round vote on Oct. 7, there will be a runoff on Oct. 28. Polls show Fernando Haddad, from the leftist Workers' Party, or PT, and far-right congressman Jair Bolsonaro, are the two candidates most likely to reach the second round.
The latest survey by the research firm Ibope on Monday showed former army captain Bolsonaro continues to lead the race with 28 percent of vote intentions compared with 22 percent for Haddad, who replaced former president Luiz Inacio Lula da Silva as the PT's candidate.
"The size of the concessions both sides would need to make to approve anything in Congress would be huge," Piva said. "It's going to be a war, a really tense situation." The biggest challenge for whoever wins the race will be addressing the country's ballooning fiscal deficit, he added.
Piva said he hasn't decided yet who he'll vote for, as both left and right options come with serious drawbacks. "I will wait until five days before the election, sit down, concentrate, and listen to jazz and then try to decide," he said.
Describing Bolsonaro as "an outsider", Piva added that Brazil has already had a "very bad experience with an outsider," referring to Fernando Collor de Mello, the former Brazilian president who was impeached in 1992 amid a corruption scandal and a financial crisis.
Bolsonaro's views on gender, diversity, democracy and security are "a bit detached from the 21 century, they're discussions from the past," he said. "So there is a risk that Brazil takes a step back."
While the PT has a stronger presence in Brazil's Congress, and more experience negotiating with the legislative body, its last government "went terribly," Piva said. President Dilma Rousseff led the PT's last administration until her impeachment in 2016.
While Piva said that the business community trusts Haddad more than his party, questions remain over who would really be in power. "Who would run the government? Haddad, Lula, or PT's president Gleisi Hoffmann? The pressure from the PT may be too big."
The entrepreneur, who also sits on the board of a Brazilian private equity fund Tarpon Investimentos SA, among other firms, said that, unlike some of his peers, he isn't taking his personal investments outside Brazil, nor is he buying dollars or selling shares in the companies he invests in, such as Vale SA or Klabin.
"I am not seeking to hedge like crazy as many people are doing now because a hedging decision is as huge as a stay put decision," Piva said, adding that he expects Brazil's congress should be able to limit radical actions by either side of the political spectrum. Congress should play the role of a "mediator" as long as "a loony doesn't come with the idea to close it," he said. "Brazil isn't going to become Venezuela."
To Piva, Geraldo Alckmin, from PSDB, is the candidate with "more content, experience, structure." But he isn't gaining any traction in the polls. "PSDB lost itself as an opposition party, and ended up discussing platitudes over meaningful issues," said Piva, whose father, Pedro Piva, who died in February last year, was a PSDB senator.