Stranded on Virus-Hit Ships, Passengers Play with Balloons
(Bloomberg) -- After a 15-day cruise that took them to ports in Japan, Hong Kong and Vietnam, Kent Frasure and his wife were looking forward to another week of travel in Japan. But instead of leaving the ship as planned in Yokohama on Tuesday, they were held for screenings after health officials wearing masks boarded the ship to check for coronavirus.
Then on Wednesday morning, passengers were told by loudspeaker to stay in their cabins. Their ship, Carnival Corp.'s Diamond Princess, would be quarantined for two weeks.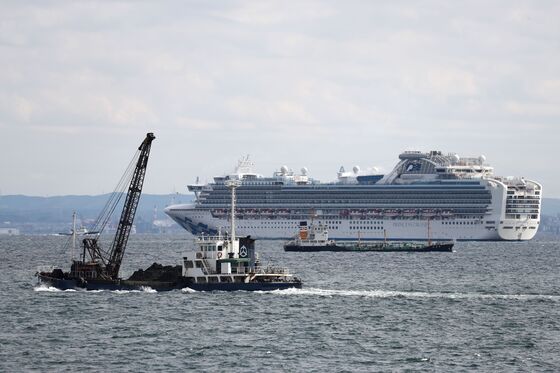 "We've been in our cabins ever since," said Frasure, 42, an Intel Corp. technician from Forest Grove, Oregon, who had saved up for the trip for more than a year and spoke by phone using WhatsApp. "It's beginning to feel isolating -- a little bit of cabin fever. There's been no sign of them letting us out."
The quarantines of two luxury liners hit by coronavirus off Japan and Hong Kong have turned vacations into confinement for more than 7,000 passengers and crew. Japan's health ministry Thursday said it's found another 10 people on the Diamond Princess have been infected with coronavirus, bringing the total to 20. The ship with about 3,700 crew and passengers aboard was placed under quarantine earlier this week. It returned to Yokohama on Thursday to get new supplies and then head off the Japanese coast.
Dream Cruises Management Ltd. runs the ship held off Hong Kong. Health authorities said 32 of 33 crew members who had self-reported symptoms were tested and found not to be infected, adding one result is still pending, according to a government statement. The ship was quarantined after three travelers who disembarked in China were diagnosed with the coronavirus.
Frasure says he and his wife have been frustrated by a lack of information and have been glued to their devices to monitor news online. His biggest concern is whether they were exposed to the passengers who came down with coronavirus.
"What does the future hold? It's frustrating to not know what to expect," he said.
For more on the coronavirus infection
Thousands of Chinese Tourists Stranded in Bali After Flight Ban
Cruise companies have stepped up their safety measures since the outbreak, altering routes and increasing health checks. Even so, the quarantines escalate a threat to the industry in the middle of what is normally the busiest period for bookings. January through March is known as "wave season," when the companies entice travelers with early booking incentives.
"Cruise lines appear more at risk from illness because so many people live in close proximity, and adverse publicity may lead to some potential customers postponing booking a cruise" or choosing another type of vacation, Jamie Rollo, a Morgan Stanley analyst who follows Carnival and Royal Caribbean Cruises Ltd., said in a note to clients. "How this plays out depends on how long the epidemic lasts, and whether the operators have to discount to stimulate demand."
Cruise operators up to now have indicated that the impact of the coronavirus has been limited, even after people were temporarily kept aboard a different Carnival ship near Rome last month when a passenger was suspected of having the virus. Tests showed that was a false alarm.
The industry has some protection, with a relatively long booking window of about six months, and customers may be reluctant to cancel existing reservations and lose their deposits, Rollo said.
On Tuesday, Royal Caribbean Chief Executive Officer Richard Fain said few potential cruisers were asking about the coronavirus, suggesting most consumers were taking the threat in stride. Outside the affected area, the company was seeing little impact, he said. China accounts for about 5% of the industry's global revenue, Morgan Stanley said.
Shares of Carnival and Royal Caribbean, the world's largest operators, have dropped more than 11% in the past month, exceeding the 7% decline in the broader Bloomberg Americas Leisure Time Index.
"Cruise lines are highly susceptible to disruptive headlines," said Alex Brignall, an analyst at Redburn who follows Carnival, Royal Caribbean, Norwegian Cruise Line Holdings Ltd. and TUI AG. "The big risk is if there is a case in the U.S. or Europe."
Checks were conducted on the Diamond Princess after a passenger from Hong Kong who had been on the ship last month tested positive for coronavirus.
The 20 confirmed infections come from a batch of 102 people whose test results have come back, according to Japan's Health Ministry Thursday. The 10 new people confirmed with infections will be taken to hospital in Kanagawa prefecture, where Yokohama is located.
The mayor of the major Japanese city of Fukuoka, Soichiro Takashima, said the central government has denied his request to block cruise vessels from the Chinese mainland from docking in the city's port for the time being.
Among those infected include two Australians, seven Japanese, three from Hong Kong, three from the U.S., two from Canada, one from Taiwan, one from New Zealand and one Filipino crew member.
"Guests will continue to be provided complimentary internet and telephone to use in order to stay in contact with their family and loved ones, and the ship's crew is working to keep all guests comfortable," the cruise company said.
Princess Cruises canceled the Feb. 4 and Feb. 12 Diamond Princess cruises scheduled to depart Yokohama.
"Checking the health of the passengers and crew is our priority, while we will also do all possible to prevent any spread of the infection," Prime Minister Shinzo Abe told parliament. "The remaining passengers and crew will not be allowed to come ashore for the time being."
A similar number of people are under quarantine aboard the World Dream after three people infected with coronavirus were found to have been passengers, Hong Kong authorities said. The first emerged in China's Hubei province weeks ago, and more than 28,000 cases globally have been reported.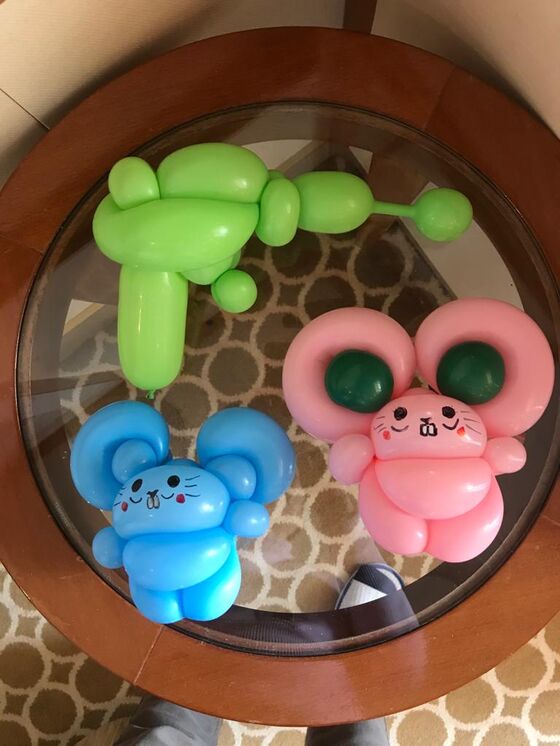 A woman who asked to be identified by the surname Chan is on the cruise in Japan with her husband. She said the situation at the moment isn't so bad: Passengers were fed a tasty chicken dinner, can watch TV and have Wi-Fi.
"It's not too boring. I spend my time twisting balloons, singing, walking around the room, and we chat with each other," Chan said by phone via WeChat. "It's tough for the staff, so we're really appreciative of them."
A male Twitter user in his 30s who says he is aboard the Diamond Princess has been posting photos and videos purported to be from the inside. They include an image of health authorities in protective gear walking gold-carpeted hallways.
"It's so ironic that the schedule is packed with events until the evening," he said in a tweet Tuesday night, posting a photo of what would have been the agenda for the next day. A Zumba dance class had been set for 9:30 a.m., along with Japanese language class at 1:45 p.m., bingo at 4 p.m., and ballroom dancing at 8:45 p.m.
Frasure spent the day canceling the next leg of the couple's trip -- a full week's travel in Japan, including a stay at Tokyo Disneyland. He explained their quarantine situation to the resort staff, but couldn't get a refund on the nonrefundable stay. He figures he will be out about $1,000 from cancellations -- and hopes the cruise operator might refund that.
The rooms haven't been cleaned or sanitized in two days, as staff have been rushing to feed passengers during meal times, Frasure said. After days of dining on lobsters and steak, passengers has been fed sandwiches since the quarantine. Dinner Wednesday was a step up: chicken and vegetables with rice.