Ted Talk-Emulating Salvadoran Politician Favored in Elections
(Bloomberg) -- A young, political outsider with a gift for social media is the favorite to become El Salvador's next president, riding a wave of discontent with decades of two-party rule that has seen hundreds of thousands migrate to the U.S. to escape poverty and violence.
Nayib Bukele, the former mayor of the capital San Salvador, leads polls ahead of a Feb. 3 presidential vote. The 37-year-old, who shuns traditional debates and interviews in favor of Facebook and Twitter, campaigned on throwing out "the usual suspects."
If he wins, he's likely to have strained relations with President Donald Trump, who is threatening to cut off aid if El Salvador and its neighbors can't stop migrant caravans heading toward the U.S. He'll also need to try to try to revive an economy that has lagged its neighbors, and tackle the gang violence that's made the country the most violent in the world.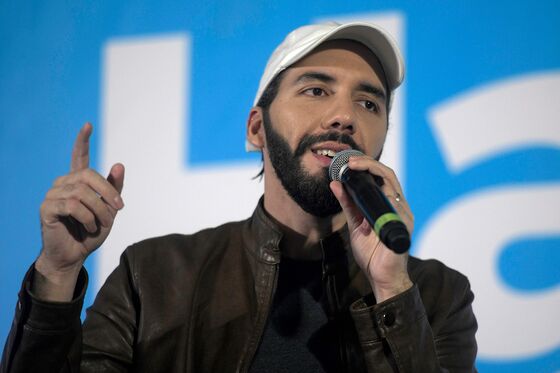 The U.S. provided $118 million in aid to El Salvador last year, according to the U.S. Agency for International Development.
Bukele has promised to build a new airport, and said he will crack down on corruption and use "big data" to tackle crime and crumbling roads. He launched his plan with a Steve Jobs-style presentation, pacing up and down in front of a large screen in an auditorium while wearing a black t-shirt and jeans. His Facebook following, which numbers over 1.4 million, is triple those of all his opponents combined.
A surprise win for Bukele's main conservative opponent would "generate a confidence shock among the private sector that would likely lead to an uptick in investment and growth," said Eurasia Group analyst Risa Grais-Targow.
Even so, investors are far from panicking at the prospect of a Bukele win. The nation's dollar bonds have returned 0.9 percent over the last six months, compared to a 1.9 percent return for the Bloomberg Barclays Emerging Markets Total Return Index.
El Salvador has $800 million in global bonds coming due in December. Congress approved $1.3 billion in debt issuance for 2019, which will help cover the payment and S&P Global Ratings upgraded the country's sovereign rating to B- on the news.
'Anti-Establishment Politicians'
His rise amid frustration with traditional parties follows "regional developments like what we saw in Mexico this year, where anti-establishment politicians and parties have risen to prominence," said Eduardo Arcos, a Mexico-based analyst for Control Risks.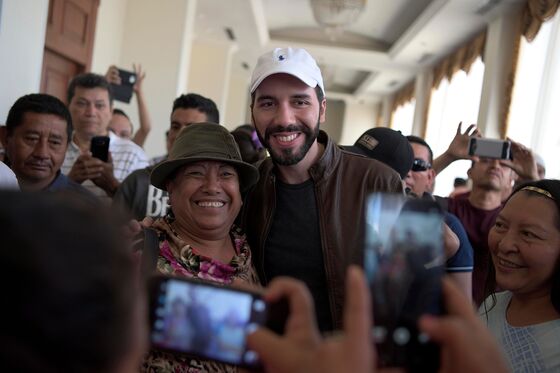 A recent poll by El Salvador's Universidad Tecnologico de El Salvador showed Bukele with 40.4 percent intended votes to 23 percent for the right-leaving Arena party's Carlos Calleja. Hugo Martinez of the leftist ruling FMLN party, was in third. A runoff between the top two would be held March 10 if no candidate wins more than 50 percent of the vote.
The winner will be sworn in to a five-year term on June 1.
The economy will grow 2.3 percent this year from 2.5 percent in 2018, according to the median estimate of economists surveyed by Bloomberg. In recent years, the country of 6 million has under-performed more dynamic neighbors, such as Panama, Costa Rica and Honduras, and would have fared even worse had it not been for strong growth in family remittances.
Bukele says he'll target economic growth of more than 4 percent, and will ease the country's fiscal responsibility law, which limits the government's ability to run up debt.
In practice, the control of congress by the conservative ARENA party may hamper his ability to implement his proposals, said Grais-Targow.
"He's going to really struggle to advance his agenda given dynamics in congress, which I think is basically going to lead to de facto policy continuity," she said. "Markets are already expecting him to win and any fears about him have already been priced in."