Tbilisi Turmoil Threatens Billionaire's Dream With Nightmares
(Bloomberg) -- The last few months are threatening to turn into something of a political nightmare for billionaire Bidzina Ivanishvili and his Georgian Dream, the party that rules this former Soviet republic.
Ensconced mainly at an estate in his ancestral village of Chorvila, about 100 miles northwest of the capital Tbilisi, Ivanishvili has been trying to quell rising discontent with what critics call his paternalistic style of rule while simultaneously easing tensions with neighboring Russia and forging closer ties to the U.S. and the European Union, as polls show most Georgians want.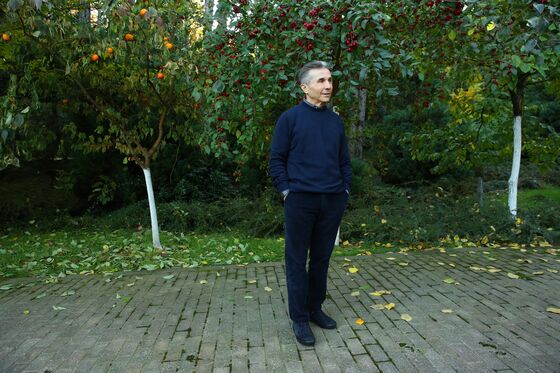 Instead, the tycoon, whose $5.4 billion fortune is equal to a third of Georgia's economy, has made moves that have driven voters onto the streets in protest just as he steers his party into an election year.
"We need healthy forces and not destructive forces," Ivanishvili said in an interview at his glass-walled villa in the foothills of the snow-capped Caucasus Mountains. "I will step aside when I see that healthier forces are fighting for power. Not before that."
The public may not give him that choice. Ivanishvili often enrages critics with his "destructive forces" mantra, a phrase they see as a veiled threat to crush any politician or movement that doesn't share Georgian Dream's vision.
Salome Samadashvili, a lawmaker in the opposition United National Movement, or UNM, said it's hypocritical to claim to be seeking to build a better, more inclusive democracy while at the same time trying to dictate who should be allowed to participate in the process.
"He's demonstrating increasingly authoritarian tendencies," Samadashvili said. "He believes he has the right to decide not only who gets to be in government, but also in opposition."
Georgians have been amassing in the capital for two weeks, braving riot police and water cannons to decry Ivanishvili's broken promise to adopt a system of proportional representation so more diverse views can be heard in parliament. The bill his party promoted and then defeated created "deep disappointment" among Georgians and "increased mistrust" of the government, the U.S. and EU said in a joint statement.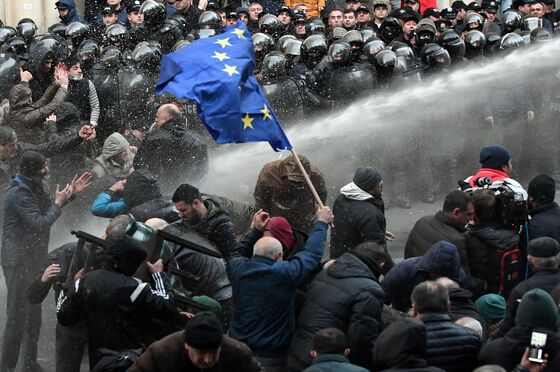 While the reforms will not be put to another vote before the October 2020 elections, Ivanishvili has pledged, as a "gesture of goodwill," not to nominate candidates in certain constituencies in order to "support smaller parties and make Georgian politics more inclusive."
In June, thousands of Georgians still outraged over Russia's 2008 invasion tried to storm parliament after Georgian Dream invited a lawmaker from Moscow to give a speech on Orthodox values from the speaker's chair. Russia responded by banning all flights between the countries, squeezing the economy at the height of the tourist season.
During the interview, which took place just before the contentious vote on electoral reforms, Ivanishvili, 63, denied opposition claims that he'd set up the legislation to fail in order to prolong his hold on power. He also rejected accusations of being a behind-the-scenes "puppet master," pointing to his official role as chairman of Georgian Dream.
His main goals, he said, are to create a democratic system that works for all 3.7 million Georgians and to leave a legacy of philanthropy that both reinvigorates the country's cultural heritage and its attraction as a tourist destination.
Ivanishvili's vast wealth -- and charitable projects -- confer unrivaled power in a country where the average wage is about $400 a month. Nestled on the Black Sea between Russia and NATO-member Turkey, Georgia has been at the crossroads of commerce and religion for centuries. Tbilisi is physically closer to Tehran than Moscow.
Born and raised in Chorvila, Ivanishvili graduated from Tbilisi State University in the early 1980s then moved to Moscow to get his doctorate in economics. He made his fortune there in banking, electronics and metals before and after the demise of the Soviet Union in 1991.
He returned to Georgia in 2011 and sold the bulk of his holdings to fund a movement to take on the virulently anti-Russian UNM, which was led by then-President Mikheil Saakashvili. Ivanishvili blames Saakashvili, a U.S.-educated lawyer who came to power during the 2003 Rose Revolution, for starting the short-lived war with Russia that cost Georgia hundreds of lives and a fifth of its territory.
Little-known at the time, Ivanishvili financed the coalition that defeated Saakashvili's UNM the following year. Ivanishvili then gave up his Russian citizenship to become prime minister, only to quit after 12 months because he said he wanted to avoid the limelight.
"I'd prefer to be a gardener than a politician," Ivanishvili said at his tree-filled compound, which includes a man-made waterfall designed to shore up a hillside prone to erosion.
It's an apt metaphor for what Ivanishvili sees as his other main objective in politics --putting relations with Russia back on sounder footing. For that reason, he said, he won't leave politics quite yet.
"It's crazy what Russia did," he said, referring to the war. "But if we build a wall and start hate speech and start cursing each other like Saakashvili did, the situation will never resolve itself."
Before he'll consider quitting politics, Ivanishvili said a "responsible" party must emerge to replace UNM, which Saakashvili headed from exile in Ukraine until this March, when he was replaced by a hand-picked successor. At its peak in 2004, UNM held 135 of the 150 seats in parliament.
Georgian Dream led a coalition victory in 2012 and then won again as a stand-alone party in 2016, picking up 115 seats despite garnering less than half of the popular vote. Since Ivanishvili and Georgian Dream came to power, Saakashvili has been charged in absentia with a number of alleged crimes, all of which he rejects as politically motivated.
"Ivanishvili thinks he should decide for the Georgian people who should be in Georgian politics and who shouldn't -- that's the typical way dictators act," Saakhashvili, 51, said by phone. "The threat of arrest won't stop me from returning to Georgia, but it's still a question of when."
In the meantime, Ivanishvili is busy spending money on philanthropic projects, which he says will eventually consume 90% of his fortune. He said he's already spent more than $600 million on restoring or building concert halls, museums, stadiums, botanical gardens, hospitals and churches.
The more commercial part of his strategy is to build hotels and then sell them at below cost to spur further investment. He said he's put his $120 million Paragraph Hotel on the Black Sea, currently operated by Marriott International Inc., on the market for $60 million.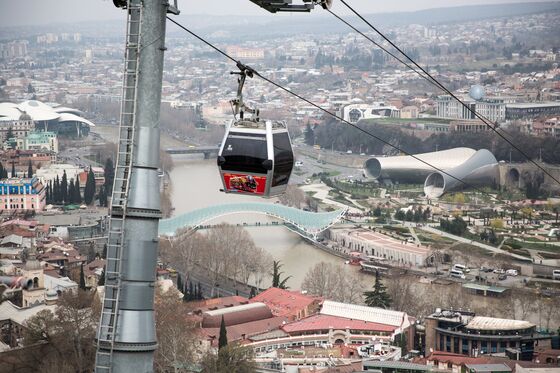 Dotting central Tbilisi and the hills above the city are a series of construction sites that form the core of a $400 million conference center and hotel complex he's bankrolling. The plan is to link them by cable car and then sell the whole thing to foreign operators for as little as half the price of construction.
Ivanishvili's personal spending alone is enough to give the economy a lift. The International Monetary Fund expects growth to reach 4.6% this year and 4.3% next, more than most countries but less than Georgia's average in the previous decade.
The expansion has been aided by the debt relief a financial institution linked to Ivanishvili announced for 600,000 consumers in the run-up to last year's election for president, a largely ceremonial post that was won by the billionaire's favored candidate. That and the involvement of senior officials in the campaign gave "one side undue advantage," the Organization for Security and Cooperation in Europe concluded.
Tom de Waal, a Brussels-based expert on the Caucasus with the Carnegie Endowment for International Peace, said that while Ivanishvili is clearly a shrewd businessman and politician, he often appears naive when it comes to understanding the concerns of average Georgians.
"He acts a bit surprised that this new Georgia isn't speeding forward like a well-functioning machine, but a country doesn't work like that," de Waal said. "Things keep going wrong, so he keeps retiring from day-to-day politics and then intervening again."
Ivanishvili ruled out ever becoming prime minister again, but he also hinted that retirement may have to wait until he's convinced Saakashvili, his arch-nemesis, won't try to return from exile and re-enter the political arena.
"If we had a choice today between Georgian Dream or anyone else but UNM, I would leave and you wouldn't see me in politics or parliament," the billionaire said. "I would not leave my village."