Biden Defends Exit; UN Chief's Dire Warning: Afghanistan Update
(Bloomberg) -- President Joe Biden offered an impassioned defense of the U.S. military withdrawal from Afghanistan, rejecting criticism that it was mishandled.
"I was not going to extend this forever war, and I was not extending a forever exit," he said in remarks from the State Dining Room at the White House on Tuesday. The deadline "was designed to save American lives," he said, adding the U.S. would have risked additional casualties in renewed combat with the Taliban had its forces remained.
The Taliban said they wanted friendly ties with the U.S. after the last American soldiers flew out of Kabul and the group indicated it was close to announcing a new government. 
International flights have ceased to operate out of the airport where Taliban leaders took a symbolic victory lap on the tarmac after the last U.S. soldiers flew out. It is not clear when flights would resume as proposals for Turkey and Qatar to help keep the airport running are in limbo. 
European ministers meeting Tuesday to discuss the crisis are already disagreeing about how best to handle a potential influx of refugees. Some states don't want any to be allowed in. The UN chief warned of a "humanitarian catastrophe."
Key stories and developments:
All items are in Eastern Time:
UN Chief Warns of 'Humanitarian Catastrophe' (1:34 p.m)
UN Secretary-General Antonio Guterres called on countries to "dig deep" and provide rapid aid for the people of Afghanistan as the United Nations prepares to release details next week of the humanitarian needs and funding requirements for the country over the next four months.
Guterres noted that almost half of the population of Afghanistan, 18 million people, need humanitarian assistance to survive and that one-in-three Afghans "do not know where their next meal will come from."
"People are losing access to basic goods and services every day," he warned in a statement. "A humanitarian catastrophe looms." --David Wainer
EU Ministers Determined to Prevent Mass Migration Flow (1:12 p.m.)
Interior ministers of the European Union underscored at a meeting in Brussels their determination "to prevent the recurrence of uncontrolled large-scale illegal migration movements faced in the past," according to a joint statement.
Eager to prevent any repeat of the 2015 crisis, which saw more than a million refugees reaching the bloc, fueling the rise of far-right parties, the ministers focused on boosting support to countries neighboring Afghanistan and already hosting large numbers of migrants and refugees.
"The best way to avoid a migration crisis is to avoid a humanitarian crisis," Ylva Johansson, EU justice and home affairs commissioner, told reporters after the meeting. She said she had called a forum for next month for countries to discuss resettlement pledges, and declined to give any specific figures. --John Follain, Jan Bratanic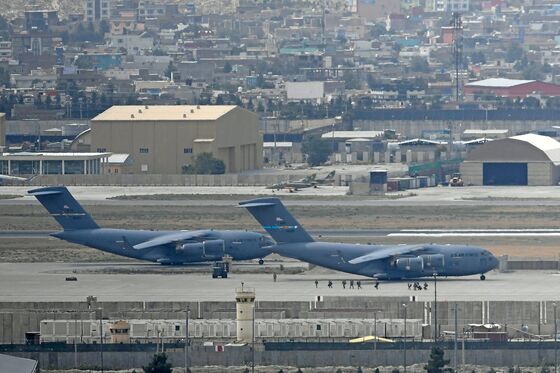 Republicans Vow to Hold Biden Accountable (12:46 p.m.)
House Republicans vowed Tuesday to hold the Biden administration accountable for the troubled U.S. withdrawal and demanded the president produce a plan to evacuate Americans remaining in Afghanistan.
"I believe there should be accountability for what I see as the biggest failure in American government on a military stage in my lifetime," said House Minority Leader Kevin McCarthy.
Republicans have asked the State Department, Defense Department and intelligence community to preserve all records for a future inquiry. They are also expected to offer amendments related to the pullout at tomorrow's committee meeting on the annual defense policy bill.
"America is a far less safe than it was," said Texas Representative Dan Crenshaw, who was wounded while fighting in Afghanistan. --Erik Wasson
Immigrant Group Says 113,000 Want Out (11:50 a.m.)
A U.S.-based group advocating for Special Immigrant Visas for qualified Afghans said about 113,000 people left behind in the U.S. and NATO withdrawal still want to leave the country. 
The estimate by the Association of Wartime Allies is based on reports on Afghan employment analyzed by the group and researchers at American University. 
The figure does not include  Afghans who are not eligible for U.S. Special Immigrant Visas but are at risk under Taliban occupation because of their roles in the Afghan government or their identity as activists, journalists, female leaders, or religious minorities. That larger group, the White House said last week, could be in the millions. --Sophia Cai
NATO Chief Says Turkey Offering to Help Running Airport (9:30 a.m.)
Kabul's airport is a key link to get aid in and foreign nationals out of Afghanistan, and Turkey has offered to continue to support the airport's operation even as NATO ceases its operations there, NATO Secretary General Jens Stoltenberg told Bloomberg Television on Tuesday.
NATO is working with countries in North Africa and the Middle East to stem any migration crisis triggered by the withdrawal and must ensure that Afghanistan doesn't become a hotbed for terrorist activity, he said. "NATO allies have strongly stated that we will not forget all those who are still in Afghanistan, who have supported us, who are at risk," he said. -- Josh Wingrove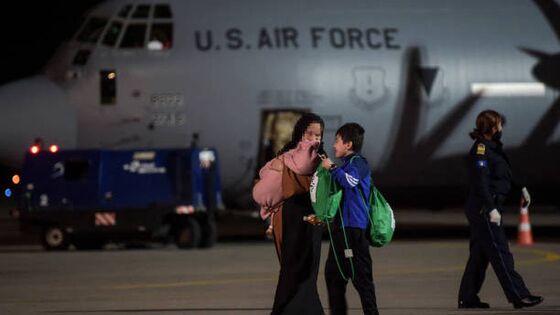 Bolton Says Real Risk of Hostage Situation (9:14 a.m.)
The departure of Americans from Afghanistan, and of Afghan allies who helped them, will slow to a crawl after the U.S. withdrawal, former U.S. national security advisor John Bolton told Bloomberg Television on Tuesday.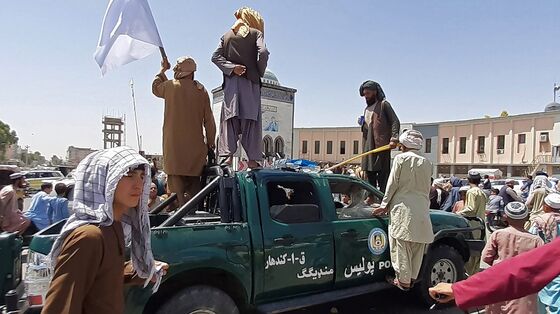 Bolton said a few more Americans may get out while Afghan evacuees will be few and far between. "We're at real risk here of a long and brutal hostage situation," Bolton said. -- Josh Wingrove
Indian Envoy in Qatar Met Taliban Official to Discuss Security (8:46 a.m.)
The Indian ambassador in Qatar met with the deputy head of the Taliban's political office to discuss regional security, India's foreign ministry said in a statement. The meeting was at the request of the Taliban and was the first between officials from both sides since the Taliban took control of Afghanistan on Aug. 15. -- Archana Chaudhary
EU Pressured to Tell Afghans to Stay Put (8:00 a.m.)
The EU shouldn't send false messages to Afghans that could spur them to come to Europe but instead encourage them to stay put, officials from some countries said.
"The most important thing now is to send the right message into the region: stay there and we will support your region to help people," said Karl Nehammer, Austria's interior minister, standing side-by-side with counterparts from the Czech Republic and Denmark as they flagged their joint position to reporters.
Europe needs to avoid making the same mistakes of 2015, Mattias Tesfaye, Danish minister for immigration and integration said, referring to when more than a million refugees reached the bloc as violence raged in Syria, Iraq and Afghanistan. -- John Follain
Merkel Says Restoring Airport Operations Key (6:50 a.m.)
Restoring civilian operations at Kabul's main airport is of "existential" importance, German Chancellor Angela Merkel said, adding that without a functioning air hub there can be no access for medicine and humanitarian assistance. All flights over Afghanistan have stopped for now, with the U.S. withdrawal leaving air-traffic control services in Kabul unmanned.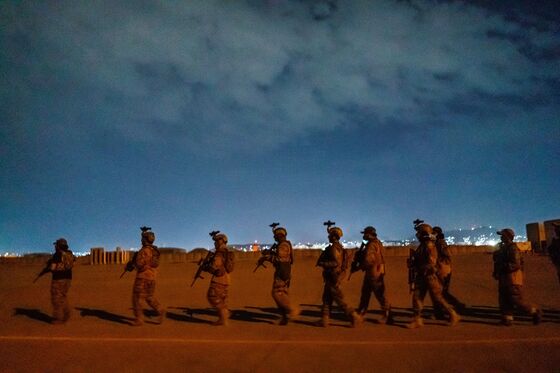 Merkel also said talks with European allies on Afghanistan are mainly to try and maintain communication with the Taliban, whose leadership has pledged to allow Afghans with travel documents to leave. "This is in contrast to any form of diplomatic recognition. It's about having diplomats close who can talk to the Taliban," she told reporters in Berlin. -- Patrick Donahue
EU's Borrell Warns on Refugee Risks (6:14 a.m.)
The situation in Afghanistan could spawn a humanitarian crisis of "biblical proportions," EU foreign policy chief Josep Borrell told Spain's Onda Cero radio.
He said Europe would need to reflect on what amounted to a defeat for the West. The experience would bring lessons "in particular for Europe the way in which we relate to that part of the world that refuses to accept our values, how we relate with our allies, including the U.S., and also we have to think about how we relate to the Taliban," he said. -- Charles Penty
Pakistan Calls Taliban Rhetoric 'Encouraging' (6:01 a.m.)
Pakistan's foreign minister, Shah Mahmood Qureshi, suggested that engagement with the Taliban "would be in the larger interest of the region and international community." 
"Can you trust the Taliban? Let's see," Qureshi said in Islamabad alongside German Foreign Minister Heiko Maas. In contrast with the 1990s, the Taliban realize they need humanitarian, economic and financial help, he said. 
Maas said German nationals as well as Afghans with residency permits for Germany remain in the country, and that he hopes Taliban pledges to allow them safe passage will be kept. -- Patrick Donahue
EU Will Pledge to Work With Transit Nations (5:40 a.m.)
When EU ministers gather in Brussels they'll discuss how to stabilize the situation in Afghanistan, ways to secure the bloc's border and pledge support for transit countries that host migrants.
The EU will work with nations that border Afghanistan "to prevent illegal migration from the region, reinforce border management capacity and prevent smuggling of migrants and trafficking in human beings," according to a draft statement from the meeting seen by Bloomberg.
The statement, which is still subject to change, doesn't propose how many refugees the EU should accept, but pledges to "act jointly to prevent the recurrence of uncontrolled large-scale illegal migration movements faced in the past." -- Jasmina Kuzmanovic
Turkey May Operate Kabul Airport If Asked (5:25 a.m. ET)
Defense Minister Hulusi Akar said Turkey is ready to evaluate operating Kabul airport if asked. "We're following the developments and evaluating the situation. If the conditions are suitable and if there is such a request, we're ready to evaluate that." 
Qatar meanwhile is urging the Taliban to allow outside assistance to run the airport but the group is mainly focusing on the technical side, Qatar's foreign minister told the Financial Times.
"What is a clear (Taliban) objection is that they don't want to see a foreign security presence in their airport or their territory," Sheikh Mohammed bin Abdulrahman al-Thani said. "What we are trying to explain to them is that airport safety and security requires a lot more than securing the perimeters of the airport." -- Selcan Hacaoglu, Sylvia Westall