Eastern Europe Can Lure Its Workers Back. Two Towns Show How
(Bloomberg) -- A small and fairly ordinary-looking Baltic town toward the eastern limit of the euro area can help explain a lot about the region's migration shifts.
Split by a border after World War I, one part is in Estonia and is known as Valga, while the other is in Latvia and is called Valka. Together, they're currently home to about 17,500 people, many of whom have started thinking more in recent years about which side of the divide is best.
The Estonian part, whose Latvian population has surged by 50 percent in the last four years, is winning. For one, Estonian wages have remained above Latvia's. But social benefits are also a factor. That could be crucial for eastern European countries that are trying to lure back workers from the continent's richer west to stem crippling labor shortages.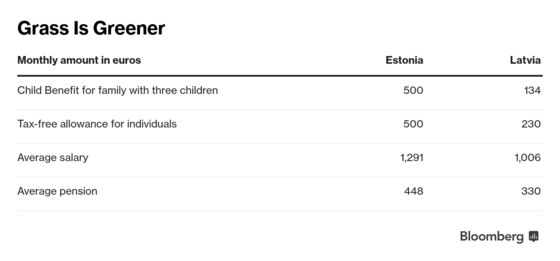 While fatter salaries and better medical care first tempted Latvians to switch to the other side of town, more generous social payments were behind a second wave of migrants, according to Valka mayor Vents Krauklis.
"When Estonia raised child benefits, these people understood that if you have children it's advantageous to register in Valga," he said in an interview.
Estonia, as a whole, is a prime example of the migration phenomenon in eastern Europe. Like fellow Baltic states Latvia and Lithuania, its population plunged after the collapse of communism and, later, following European Union membership and the accompanying travel privileges.
Low birth rates and people, including those who are better-educated, seeking higher-paid jobs in richer EU countries has led to a shortage of skilled workers across central and eastern Europe. That has in turn hampered investment, innovation and production and threatened the long-term outlook of public finances.
But unlike its neighbors, Estonia has begun to reverse the trend of late, with enhancements to child benefits playing a role. It also recently introduced tax relief for the less well-off.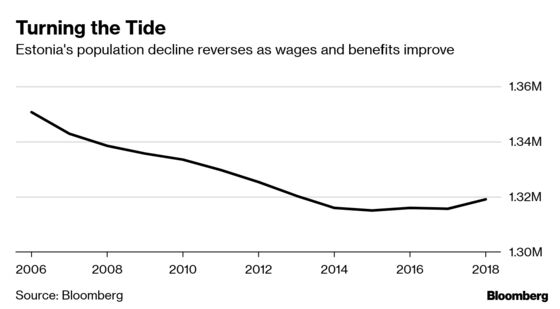 "As family benefits in Estonia have grown, they encourage families that went abroad to consider returning," said Pihla Maria Siim, a researcher at Tartu University who's studied the migration of Estonian families to and from nearby Finland.
Net migration from Finland, an attractive destination for Estonian workers, turned positive in 2017 for the first time since at least 2004, according to the statistics office.
Estonia's experience could prove instructive to places like Bulgaria, whose population is set to dip to levels last seen after World War II. Poland, whose citizens comprise the biggest foreign group living in the U.K., is offering lavish family benefits to help retain who they still have and tempt others home.
Valga, the Estonian part of town, is glad of the newcomers.
"Almost all of our companies are facing labor problems," mayor Margus Lepik said in an interview in his office. "On the other hand, it's a problem" for Valka.
For now, the exodus from there is being offset by the arrival of workers from elsewhere in Latvia. But mayor Krauklis says labor shortages will eventually require action.
"We have to open the door more to foreign workers," he said, citing Belarus and Ukraine as possibilities.