Taking Trump's Place in Asia, Pence Can't Escape West Wing Drama
(Bloomberg) -- As the White House descended into a hornets' nest of infighting, intrigue and drama, Vice President Mike Pence was on the other side of the world last week behaving more like a traditional U.S. commander-in-chief.
During a week-long trip to Asia aimed at reassuring U.S. allies about the stability of America's commitment to the region, Pence did what President Donald Trump rarely does: stay on message, calm nervous security partners and clearly lay out a vision for American foreign policy.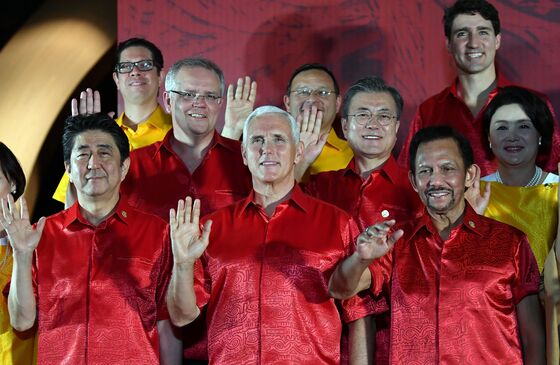 But the chaos at home, and Trump's mercurial approach to making policy, threatened to undercut Pence's carefully honed message during the four-country swing that ended Sunday. While Asian leaders listened closely to Pence, many were waiting to see if Trump would do something to contradict him.
"Pence is a good speaker, and has a strong grasp of key issues, but he is always going to be undermined by the fact that everyone knows Trump is unpredictable,'' said Anthony Nelson, director of the East Asia practice at Albright Stonebridge Group in Washington.
Trump, who has been known to crash into international meetings with incendiary tweets and disruptive statements, publicly showed little interest in the forums taking place in Asia. The president didn't tweet about Pence's trip and largely avoided commentary on pressing issues in the region.
For many participants, Trump's disinterest was conveyed by his decision to skip the summits, which are designed to include the U.S. president -- in part to prevent China from dominating smaller countries in the region. That left Pence to reassure allies that the U.S. remains engaged in a region where it's been the dominant military power since World War II.
In public remarks and meetings with more than 10 heads of government, Pence repeatedly chided China for its trade and economic practices while saying North Korea should follow through on a commitment to denuclearization. His visit to Singapore coincided with meetings by officials from the U.S., Australia, India and Japan -- the so-called "Quad" -- to balance Beijing's increasing military and economic influence.
Pence also made announcements about new U.S. initiatives in the region, including a joint operation with Papua New Guinea and Australia at a naval base on Manus Island.
"The United States' commitment to the Indo-Pacific has never been stronger,'' he said Saturday during a speech to the Asia-Pacific Economic Cooperation CEO summit in Papua New Guinea. Described as a capstone of Pence's trip, the speech laid out a competing vision for the region that set a contentious tone for Trump's upcoming meeting with Chinese President Xi Jinping.
Yet even while studiously avoiding any distractions, Pence couldn't avoid the swirl of controversy engulfing the West Wing nearly 10,000 miles (16,000 kilometers) away.
As Pence warned Myanmar's leader Aung San Suu Kyi about freedom of the press and called on her government to release two jailed journalists, the Trump administration was being sued by CNN for banning reporter Jim Acosta from the White House. While Pence dismissed the comparison, calling the Acosta ban simply a "disagreement over decorum,'" a federal judge on Friday ordered the Trump administration to reinstate his White House pass.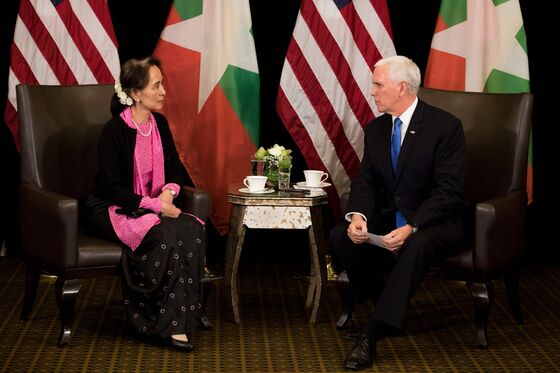 Palace intrigue in the White House also intensified during Pence's trip, impacting part of his delegation. As Trump's National Security Adviser John Bolton huddled with Pence in Singapore, his deputy Mira Ricardel was publicly defenestrated in Washington after First Lady Melania Trump's spokeswoman released an unusual public statement calling for her ouster.
Ricardel exited her post on Wednesday. Bolton, who attended Pence's meetings with South Korean President Moon Jae-In and Russian President Vladimir Putin in Singapore, left the vice president's side early to return to Washington.
Asked about the public backbiting in the White House, Pence told NBC News that "every administration has turnover,'' and quickly pivoted to touting U.S. economic growth.
The vice president's own inner circle was swept up in the drama, as multiple news outlets reported this week that Pence's chief of staff, Nick Ayers, was being considered for the position of White House chief of staff.
And the New York Times reported Friday that Trump has asked aides whether or not Pence was loyal. Trump later denied the report, which cited a dozen anonymous sources indicating that Trump may have soured on his vice president.
Pence sought to downplay both stories while speaking with reporters on Saturday in Papua New Guinea, sidestepping questions about Ayers' future -- or his own -- with Trump.
"I'm tempted not to dignify it with a comment,'' Pence said of the New York Times article, before adding that the story came up in a discussion with the president. "We had a good laugh."
The episode highlighted how events in Washington were having an impact some 12 time zones away. While many Asian nations appreciated Pence's remarks at the summits and want the U.S. engaged in the region, the sense of disarray in Washington has had a real-world effect on alliances.
Australia, for instance, has been reluctant to join the U.S. in freedom-of-navigation operations challenging China's territorial claims in the South China Sea, according to John Blaxland, a former intelligence officer who now heads the Strategic and Defence Studies Centre at the Australian National University.
"How can we in the face of a U.S. that seems to be politically unstable?" Blaxland said. "Where you don't know from tweet to tweet what direction the U.S. ship is going to take next?"