Trump Met With Billionaire, Taiwan Presidential Candidate Terry Gou
(Bloomberg) -- President Donald Trump met with billionaire Terry Gou as the Foxconn Technology Group chairmen steps up his campaign to become Taiwan's next president, the White House said.
Gou discussed his candidacy with Trump during a visit to the White House on Wednesday, a person familiar with the matter said.
In confirming the meeting, White House spokeswoman Sarah Huckabee Sanders said in a statement Thursday that Trump and Gou "did not discuss support for his campaign in Taiwan, he is just a great friend."
No sitting American president has met with a prospective Taiwanese presidential candidate since the U.S. cut ties with Taiwan in 1979. Trump has tested the boundary before, holding an unprecedented phone call with Taiwanese President Tsai Ing-wen in the window between his 2016 election and inauguration -- a move that prompted protests from Beijing.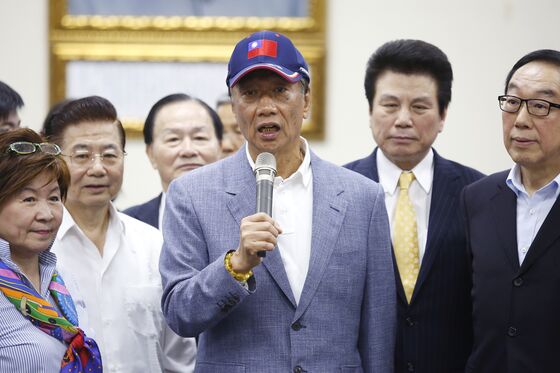 Gou, whose Foxconn Technology Group is China's largest private employer as well as the main assembler of the Apple Inc.'s iPhones, declared his political ambitions in April and is regarded as friendly to Beijing. Gou told Trump that, if elected, he would encourage Taiwanese corporations to invest in the U.S. and be a peace-maker rather than a trouble-maker, according to the person, who declined to be identified talking about a private meeting.
The Chinese Ministry of Foreign Affairs in Beijing didn't immediately respond Friday to a faxed request for comment.
Gou also intends to press ahead with construction of a panel factory in the swing state of Wisconsin, a project once envisioned as a $10 billion investment that has fallen far behind schedule, Taiwan's Liberty Times reported earlier. The Taiwanese billionaire's company has said that complex would crank out displays as part of a global manufacturing empire stretching from Brazil to China.
Sanders said, "Mr. Gou is spending a lot of money in Wisconsin and soon will announce even more investment there."
Foxconn didn't immediately respond to an emailed request for comment.
Taiwan has re-emerged as a flash point between the U.S. and China, as Tsai seeks Washington's support to counter a global isolation campaign by Beijing. China hawks in the U.S. have advocated increased diplomatic and military ties, including weapons sales and high-level visits, as part of a "whole-of-government" approach to push back against growing Chinese clout in the Asia-Pacific.
Gou said in mid-April he would seek the nomination of the China-friendly opposition Kuomintang party in next year's election, a process expected to play out in coming weeks. He's regarded as the most prominent candidate for the KMT's presidential nomination, in a race that will determine whether Taiwan moves closer to China.
The 2020 election may thus pit the billionaire against Tsai, whose Democratic Progressive Party advocates a more decisive split from Beijing, which regards the island as part of its territory.