Syrian Crisis Leaves Erdogan in a Jam
Turkish President Recep Tayyip Erdogan is in a bind.
The biggest single-day loss of Turkish troops in decades — in an attack over the border in Syria's northwest — has dramatically escalated tensions not just with President Bashar al-Assad, whose troops are fighting Turkish-backed rebels in the area, but with Russia. Assad is supported by Vladimir Putin, including militarily.
Moscow denied direct involvement in the clash, and Russia seems to be taking a conciliatory tone, but it's getting harder for Erdogan and Putin to remain above the fray. The two have an uneasy understanding to try and stay out of each other's way in the Middle East and North Africa.
The killing of so many of his soldiers means Erdogan can't sit back and do nothing. Already Turkey has stepped up attacks on Syrian positions near the border areas. But equally, he has limited options. He can't afford a direct fight with Russia. NATO and European nations aren't keen to be drawn in. And President Donald Trump has signaled other priorities for the U.S. than Syria.
That leaves Erdogan with one card to play — refugees. Already there are hints he may allow more refugees from Syria across Turkey's borders towards Europe. That prospect will be spurring alarm today in the halls of power in Berlin and Paris. It's the only way Erdogan can expect to get Europe to sit up and listen.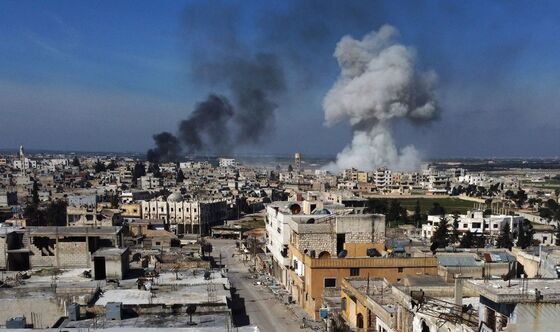 In need of a win | Joe Biden is hoping a win in South Carolina tomorrow will propel him to a strong showing in the Super Tuesday contests next week and give momentum to his flagging campaign for the Democratic presidential nomination. But even though polls show Biden in front, a knockout win in South Carolina might prove difficult given the rise of Bernie Sanders and the persistent strength of billionaire Tom Steyer.
Seeding chaos | As Trump assured Americans the response to the coronavirus was well in hand, signs of disorder were intensifying from Washington to Wall Street. The world economy is heading for its worst performance since the financial crisis more than a decade ago, while Nigeria's government confirmed the first coronavirus case in sub-Saharan Africa.
While the outbreak gathers speed in Europe, the Middle East and the U.S., there's one place it is seemingly being contained: Singapore. Read more here.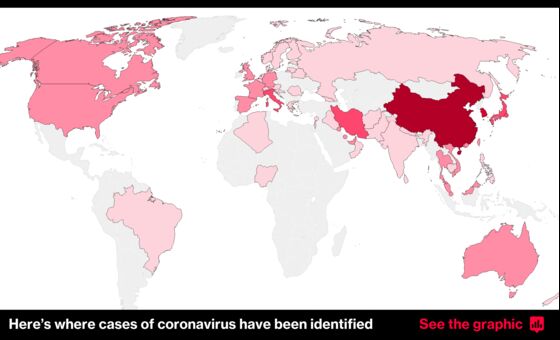 Unpredictable choice | Slovakia was a steady member of the European mainstream, before the brazen 2018 contract killing of a reporter investigating politics and organized crime brought down populist leader Robert Fico. Now it's heading into its most unpredictable elections in two decades, which could oust the long-dominant political force and boost a far-right party that reveres the fascists who ruled the country during World War II.
Fragile hope | The U.S. is ready to take its biggest step toward ending the two-decade war in Afghanistan tomorrow with the signing of a peace deal with the Taliban, a fundamentalist Islamic group. The accord rests on a simple exchange: The U.S. will start withdrawing some of its 13,000 troops in the country in return for a Taliban pledge to cut ties with all terrorists and prevent Afghan territories from becoming militant havens.
Bannon's plan | As Trump grappled with a public health crisis that could threaten his re-election, his former chief strategist was dining with like-minded Europeans and Latin Americans to plot the next wave of a global surge in right-wing populism. Steve Bannon hosted the dinner Wednesday night for Brexit architect Nigel Farage and others, Jennifer Jacobs exclusively reports.

What to Watch
Malaysia's king confirms no lawmaker has the support of the majority to form the new government, leaving Mahathir Mohamad as interim prime minister as the monarch grapples for a solution to the impasse.
Kosovo announced it will gradually lift tariffs on Serbian imports that Western powers have denounced as a barrier to efforts to mend ties, but Trump's envoy to the region criticized the measure as insufficient.
Thailand's parliament rejected motions of no-confidence in Prime Minister Prayuth Chan-Ocha and five other ministers in the ruling coalition after a week-long censure debate over the performance of the government.
Pop quiz, readers (no cheating!). What was the first Group of Seven nation to sign up to Chinese President Xi Jinping's Belt and Road Initiative? Send us your answers and tell us how we're doing or what we're missing at balancepower@bloomberg.net.

And finally … Vladimir Putin says he is the genuine article and always has been, after he disclosed he'd rejected a proposal by officials to allow body doubles to stand in for him. Putin said the idea, which has long been a subject of speculation in Russia, came up in the early years of his presidency, when he visited troops during a bitter war against Islamist separatists that killed thousands in Russia's Chechnya region.