Swiss Seen Favoring Corporate Liabiltiy, SNB Investment Curb
(Bloomberg) -- A majority of Swiss voters backs plans to hold companies liable for human rights abuses abroad and to curb the central bank's investment in defense companies, according to initial Tages-Anzeiger polls ahead of next month's national ballot.
The newspaper reported on Friday that support for the corporate responsibility measure was at 57%.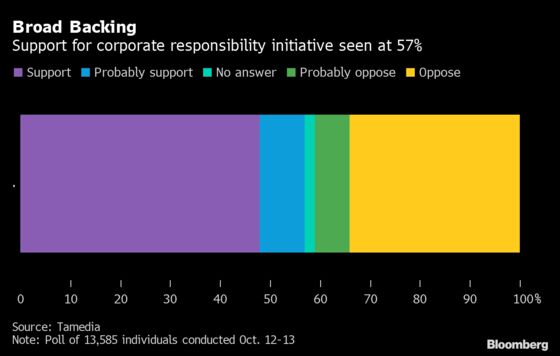 The country is home to commodities trader Glencore Plc and a trading hub for Vitol Group, as well as metals and energy merchant Trafigura Group and smaller rivals Gunvor Group and Mercuria Energy.
The measure, up for a national vote on Nov. 29, would require companies with headquarters or central administration in Switzerland to adhere to internationally recognized human rights and environmental standards.
Proponents of the initiative say it'll force multinational companies to recognize that safeguarding people and the environment should come before profitability.
Companies and Swiss government, however, oppose the measure because it could damage the economy. Bern has proposed a watered-down alternative that would require reporting for publicly held companies and would limit their legal liability.
Another measure on the ballot next month would forbid public institutions, including the Swiss National Bank, from financing or investing in defense companies.
That could complicate things for the SNB, which has invested about 175 billion francs ($204 billion) in equities -- 20% of its foreign-exchange reserves. It's equity portfolio mirrors indexes.
The poll had support for that initive at 52% and opposition at 45%.