Swiss Parliament Adds Two Women to Government
(Bloomberg) -- Swiss lawmakers elected Karin Keller-Sutter of the pro-business Free Democrats (FDP) and Viola Amherd of the socially conservative Christian Democrats (CVP) to government, bringing the number of female ministers to three.
Keller-Sutter and Amherd fill vacancies left by Infrastructure Minister Doris Leuthard, 55, and Economy Minister Johann Schneider-Ammann, 66, yet the departments might be reshuffled among the seven-member government in the coming days.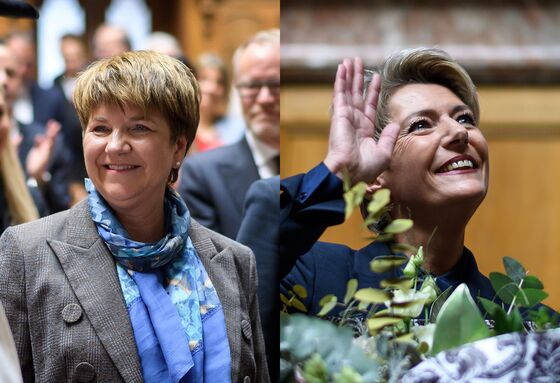 The new ministers were elected in a secret ballot by Switzerland's 246 strong parliament. It only took one round for both Amherd and Keller-Sutter to reach the absolute majority necessary to win a seat.
Karin Keller-Sutter, 54, is a translator by training and represented the eastern canton of St. Gallen in the upper house of parliament for the past seven years. She made a name for herself as a vocal opponent to the latest attempt to reform the Swiss pension system and pushing through the corporate tax reform. She also serves on the supervisory board of insurer Baloise.
Viola Amherd is a lawyer in Brig, Valais, a town in the mountains near Italy. She has been a member of the lower house of parliament for more than 13 years. The 56-year-old is known as an advocate for female politicians in the socially conservative CVP and for representing the interests of remote regions and mountainous areas in national politics.
Keller-Sutter and Amherd are scheduled to take over from January 1st after Leuthard and Schneider-Ammann retire.
The election is unlikely to prompt much political change as Switzerland's government is consensus based and ministers don't publicly dissent from the official line.