Swiss Put Crucial EU Ties at Risk By Scrapping Deal With Bloc
Switzerland refused to sign a treaty it hammered out with the European Union, a move likely to undermine relations with its biggest trading partner and potentially damage the economy.
The Swiss government said the two sides weren't able to bridge differences on state aid and wage protections, which it described as "key concerns."
The announcement ends years of wrangling, which at one point nearly thwarted the smooth functioning of Switzerland's stock market. It also constitutes a risk for Swiss businesses, because the new deal would have secured continued access to the bloc's single market.
An EU official said no new access could be considered after the country announced it wouldn't sign up to the agreement.
One of Switzerland's main business lobbies said it was disappointed in the outcome and that there would be "negative consequences."
"This step endangers Switzerland's successful bilateral path with the EU," said Martin Hirzel, president of Swissmem, an industry body for mechanical and electrical engineering companies. "The period of great uncertainty in relation to the most important sales market has been going on for far too long."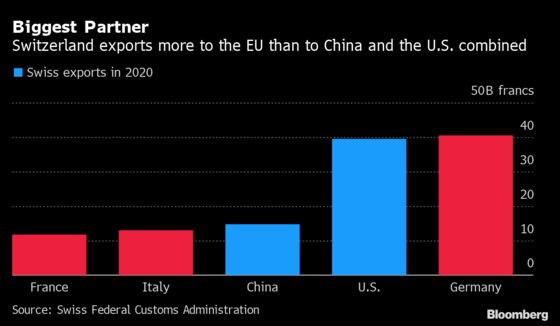 Swiss Economy Minister Guy Parmelin told a press conference that the country was in a "new chapter in our relationship" with the EU. He declined to put a figure on any impact on the economy from pulling the plug on the draft accord.
Unveiled in 2018, the so-called framework agreement was designed to allow continued market access, building on individual arrangements governing everything from agriculture to civil aviation.
But the draft ran into opposition in Switzerland, where the nationalists worried their country would lose its independence and labor unions feared it would erode high local wages.
Over the past few months, Swiss officials tried and failed to win concessions from the EU, which only recently completed its acrimonious separation from Britain.
"We regret this decision," the European Commission said in a statement. "Privileged access to the single market must mean abiding by the same rules and obligations.
Another point of dispute was the Swiss having to take over elements of EU law. To help their country move in lockstep with the bloc, authorities will look into updating some areas of their law autonomously.
The government said that because it was in the interest of both parties to maintain the existing agreements, it would start a political dialog with the EU for continued cooperation.