Swedish Turmoil Deepens as Old Alliances Start to Crack
(Bloomberg) -- Old alliances are starting to crumble as the first round of voting on a new Swedish prime minister ended in defeat for Moderate Party leader Ulf Kristersson.
The speaker of parliament will meet with party leaders again on Thursday to decide on the next step forward.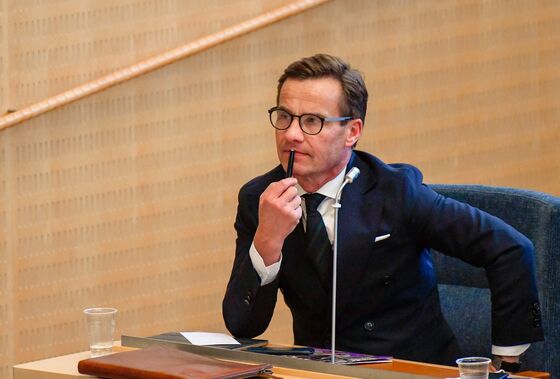 The speaker, Andreas Norlen, could ask acting Prime Minister Stefan Lofven to try to form a Social Democratic-led government and schedule another vote next week. That seems doubtful since Lofven has said he sees no point in holding a vote he would likely lose. The speaker could then look at picking Annie Loof, the Center leader, who on Wednesday voted against her ally Kristersson and called for cooperation across the bloc lines.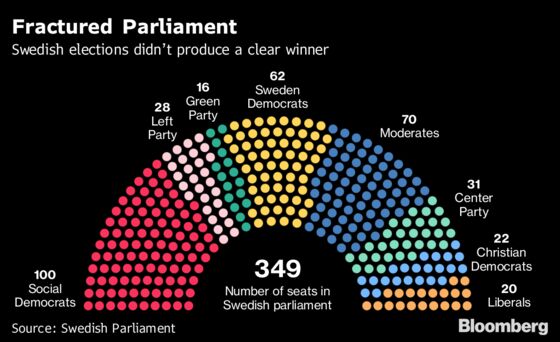 Not far from it, but it's still breathing. The Alliance formed by Sweden's four center-right parties in 2004 to end decades of Social Democratic dominance received a severe blow after the Liberals and Center Party on Wednesday rejected Kristersson's attempt to form a narrow minority government with just the Christian Democrats as partners. They could come back for another try -- which Loof says she wants -- but old allies may now find it hard to find common ground.
3. How are the Sweden Democrats doing?
Probably pretty good. Old alliances are cracking, confidence in the opposition leaders is slumping and the nationalists are gaining in the polls. Party leader Jimmie Akesson castigated his fellow party leaders in parliament on Wednesday and celebrated that a "new political landscape" is now emerging in Sweden.
4. Will there be a new election?
Potentially. But parliament needs to hold three more prime minister votes before a new election is called. The big winner from the gridlock looks right now to be the nationalists, if polls are to believed. That raises the stakes for the others to find a compromise.
5. What's going on with the budget?
The caretaker government will present a budget on Nov. 15, which will be a continuation of the 2018 spending plan and contain no new initiatives. Municipalities and regions won't get the boost to their budgets that was promised during the election, for example. All parties will have until Nov. 30 to present alternatives. The Moderates have said they will propose their own plan and have also called on a unified budget from the Alliance (but that seems unlikely after the rejection of Kristersson).
Not so far. The krona has gained since the election. The country is in the relatively stable hands of a caretaker government, has large budget surpluses, low public debt and the economy is producing close to capacity. Investors are more focused on whether the country's central bank will raise interest rates next month, or wait until February.