Social Democrats Now in Driver's Seat to Solve Swedish Impasse
(Bloomberg) -- Social Democratic leader Stefan Lofven got another shot at forming a Swedish government, hoping to capitalize on a splintering of the center-right opposition after the rise of the nationalist Sweden Democrats.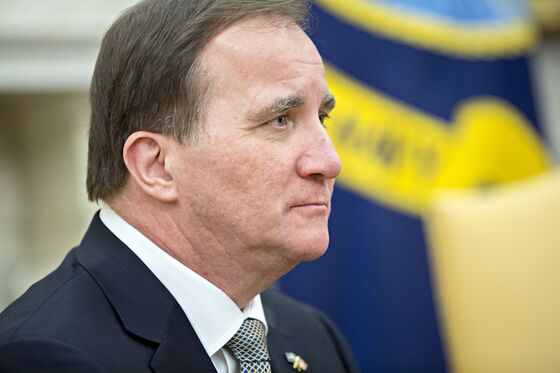 After more than two months of failed talks, Andreas Norlen, the speaker, on Friday said that he would formally nominate Lofven on Dec. 3 and that a vote on prime minister would take place in the following days.
Pointing to a growing impatience, the speaker is forcing the second out of four votes that will be needed in parliament before a new election can be held. Moderate leader Ulf Kristersson lost the first such vote after he was abandoned by his allies amid disagreements over relying on support from the nationalist. Lofven was also ousted in a no-confidence vote shortly after the election after he had refused to step down.
Sweden Democrats, Center Would Gain in Snap Election, Poll Shows
Now acting prime minister, Lofven will need to peel off the Center and Liberal parties from the center-right Alliance, or at the very least convince them not to vote against his government.
There's now more scope for a solution following a week of talks headed by Center Party leader Annie Loof, Lofven said at a press conference Friday afternoon. He will try to form a viable government with parties from both blocs, but said he hasn't seen any signals yet on cooperation from the Center Party and Liberals.
Jonas Hinnfors, an associate professor at the Gothenburg University, said the two smaller parties now face a "moment of truth."
"They've set up a red line against the Sweden Democrats, but they also have a 60-year history of being in opposition to the Social Democrats," he said. "But quite a few nights have now passed since the election. They have to consider what they think their voters can accept."
The Liberals are looking the wobbliest and could potentially get voted out if there's a new election. Leader Jan Bjorklund is prepared to join Lofven, but the party is deeply divided on the way forward, newspapers Expressen and Dagens Industry have reported. The party will be meeting over next week to decide on the process ahead.
Loof, who abandoned her own talks on forming a government, has said that she wants to stick with the center-right bloc while she also doesn't want to rely on support from the Left Party, which Lofven would need for a majority.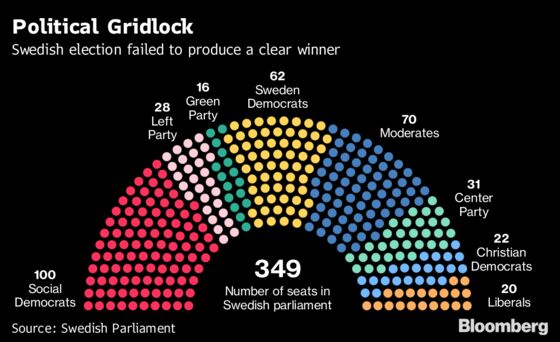 Meanwhile, Kristersson is sidelined for now, but said he isn't worried his opposition colleagues will abandon him. "We have been in complete agreement on that we want an Alliance government with Alliance polices and I haven't seen any such signals," he told broadcaster SVT on Friday.