Opposition Leader Gets First Crack at Breaking Swedish Deadlock
(Bloomberg) -- Sweden's speaker of parliament gave Alliance opposition leader Ulf Kristersson the first attempt at forming a government to break the deadlock after last month's inconclusive election.
Kristersson will be given two weeks to gather support to become prime minister, Andreas Norlen, the speaker, said at a press conference in Stockholm.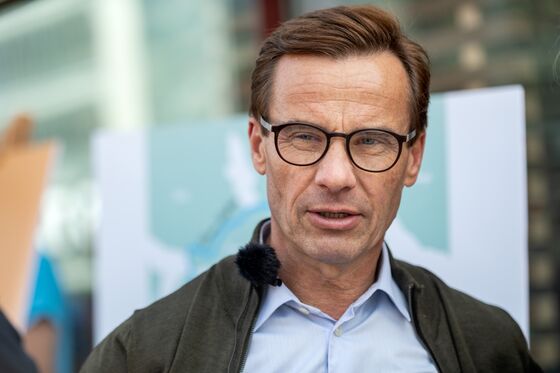 The situation needs to be "softened" and giving one candidate the authority to hold talks could create momentum, Norlen said.
The election three weeks ago saw Prime Minister Stefan Lofven's Social Democratic-led bloc win a one-seat lead over the center-right Alliance. But the nationalist Sweden Democrats emerged with 62 seats, leaving both blocs without a majority or a clear path to power since the main parties have so far refused to work with the group because of its neo-Nazi roots.
There will be no solution to the impasse if everyone refuses to budge, Kristersson said at a press conference on Tuesday after the speaker's announcement. "I will do everything in my power to create an Alliance government," he said.
Kristersson's nomination comes after the four-party Alliance and the nationalists teamed up last week to oust Lofven in a confidence vote. They also combined to elect Norlen, a member of Kristersson's party, as speaker.
Norlen said on Tuesday there was logic in giving the leader of the bloc that voted out the prime minister a chance to form a government, even though Lofven still leads the biggest party.
Sweden has a so-called negative parliamentarism, meaning Kristersson only needs to ensure he's tolerated by not having a majority actively voting against him in parliament.
Lofven, who is now acting prime minister for a caretaker government, said in a Facebook post that it was logical that Kristersson "gets to test his support," but reiterated that the Social Democrats "won't become a support party for a four-party center-right government."
Social Democratic group leader in parliament, Anders Ygeman, said on Swedish radio early Wednesday that many different government combinations will be discussed to keep the Sweden Democrats from gaining influence, but he doesn't think Sweden will have a German-style grand coalition "unless there's a serious crisis."
Erik Nilsson, a portfolio manager at Ohman, said it was no surprise that Kristersson was given the nod by the speaker. The Moderate Party leader will now likely try and fail to get an Alliance government through parliament, he said.
He will then show that he's "forced" to find another way, Nilsson said.
Kristersson said he will focus on holding talks with the Alliance and to try to win support from the Social Democrats. Two of his Alliance partners, the Liberals and the Center Party, have ruled out using any sort of support from the nationalists to grab power.
After talking with the speaker on Tuesday, Center Party leader Annie Loof let it slip that she's thinking about alternatives, should an Alliance government prove impossible.
"An Alliance government is our main focus," she said after meeting with the speaker. "If that doesn't work there are many different possible solutions between the blocs. Even if I don't think a grand coalition is the best alternative, it shouldn't be excluded in a complicated parliamentary situation.''
Lofven has been trying to separate Loof's Center Party from the Alliance. That would give his red-green coalition a majority. But that is also complicated since Loof has said that she also won't cooperate with the former communist Left Party, a key Lofven ally.
The Sweden Democrats, meanwhile, are waiting in the wings, advocating for Kristersson's Moderates and the Christian Democrats to split off from the Alliance. Nationalist leader Jimmie Akesson said on Tuesday that the situation remains unchanged, but that the establishment "parties will have a hard time ignoring us."
"Market-wise, nothing has changed with today's announcement," said Stefan Mellin, an analyst at Danske Bank. "The parties are still stuck in a trench warfare. Probably things will become clearer in the coming days, both regarding PM vote and budget support."