Sweden's Lofven Hails 'New Phase' as Real Government Talks Start
(Bloomberg) -- Social Democratic leader Stefan Lofven said Sweden's political crisis has now entered a "new phase" as he prepares to start "sharp" negotiations with key opposition parties on forming a viable coalition.
The Social Democrats will hold negotiations with the Center Party and the Liberals, as well as its ally the Green Party, he said to reporters in parliament. "We will make every effort to take this over the goal line."
After leading the Social Democrats to their worst election in a century, Lofven is now poised to take advantage of discord within the center-right bloc.
Luring the Center Party and Liberals over to his side would mean the end to decades of bloc politics. But he will likely need to make big compromises to meet demands for tax cuts, labor and housing market reforms from primarily the Center Party.
In a nod to the progress, the speaker of parliament on Tuesday extended a Wednesday deadline for Lofven, saying he will now need come back with a progress report by Friday and a second update on Dec. 10.
Sweden has struggled to form a government after an inconclusive election almost three months ago that saw large gains for the nationalist Sweden Democrats.
Lofven said on Tuesday that it was key that Sweden could get a government that shuts out the Sweden Democrats, an anti-immigration party, from influence. That has also been the overriding issue for the Center Party and Liberals, who last month both rejected a narrower Conservative-led government that would have relied on nationalist support.
But Center Party leader Annie Loof said in an op-ed published on Tuesday that the Social Democrats were still nowhere near meeting her demands and that she will vote against Lofven unless he joins in "liberal reforms."
A "sharp and clear message" on joining "liberal reforms" is needed for the Center Party to vote yes to Lofven, Loof wrote in an op-ed in newspaper Aftonbladet.
The party has been willing to consider a Social Democratic government even though we are "deeply convinced" that the best for Sweden is a center-right Alliance government, Loof said. The Social Democrats have so far only offered cooperation on a "few issues," she said.
A poll released on Tuesday strengthened Lofven's hand. The benchmark semi-annual survey by the nation's statistics office showed that the Social Democrats have gained the most from the turmoil of the past three months. The center-right bloc, deeply split over whether to rely on support from the nationalist, slid in the survey.
"This poll could give them fuel not to sell out too easily to the right in the ongoing discussions," said Jonas Hinnfors, a professor in political science at Gothenburg University. "The outlook for a snap election doesn't maybe look as dramatic for the Social Democrats anymore."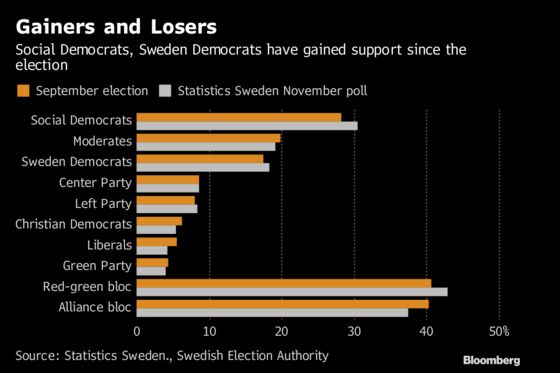 Lofven will need to find a way of combining his center-left policies with the more free-market and tax cutting agenda of the Center and Liberals. But he can't move too far to the right or he would likely lose the support of the Left Party, which he also needs for a majority.
The Left Party will not be a part of the talks, Lofven said.