Sweden PM Ousted in Confidence Vote as Political Turmoil Deepens
(Bloomberg) -- Stefan Lofven became the first Swedish prime minister to be ousted by a confidence vote in parliament as the center-right opposition and the nationalists joined forces to end four years of Social Democratic rule.
The nation now faces lengthy government talks. An election two weeks ago left Lofven's coalition with a lead of just one seat over the Alliance opposition as the Sweden Democrats grabbed 62 seats in the 349-person legislature. With the nationalists as power-brokers, there's no clear path to power for either of the two establishment blocs.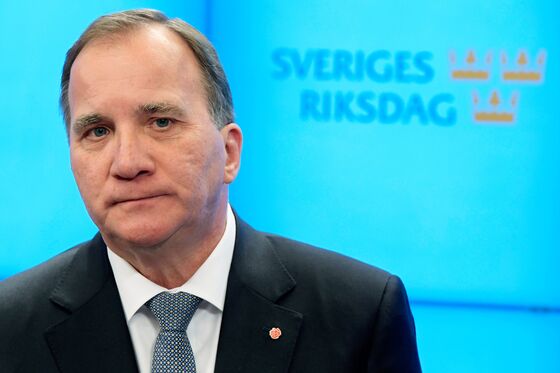 Lofven, 61, had refused to resign, pointing to his narrow lead and calling for cross-the-aisle talks to form a broad government and keep the nationalists from gaining influence.
But Lofven remained defiant, saying there's still a good possibility of returning to power and that he would never act as a support party for the Alliance. Such a government is also "unrealistic" since they have all vowed not to rule with support of the nationalists, he said at a press conference in parliament.
Swedish Krona Erases Gains as Parliament Ousts Prime Minister
Ulf Kristersson, leader of the largest opposition party, the Moderates, said the vote was never in doubt. "There was a clear majority that the government shouldn't stay," he said. "That's the starting point. Now it's up to the speaker to assess the options."
The four-party Alliance and Sweden Democrats on Monday also joined up to elect a new speaker, Andreas Norlen. Starting on Thursday, the speaker will hold talks with all the parties to gauge who will be best able to form a coalition to steer the largest Nordic economy. He said it's important for the speaker to stand above party politics.
Lofven will remain as a caretaker prime minister until a new government is confirmed.
Right now, none of the sides have enough votes to pass a spending plan, which is key on forming a stable government. The Alliance is split on whether to seek further support from the nationalists. The Center and Liberal parties are opposed to cooperation, while the Moderates and Christian Democrats are open to passive support.
At the same time, both the Sweden Democrats and the Social Democrats are working to split the Alliance, seeking either a smaller right-wing government or a broader bipartisan coalition. The Liberal and Center parties are pushing for an Alliance government that has backing from the Social Democrats, which Lofven rejects.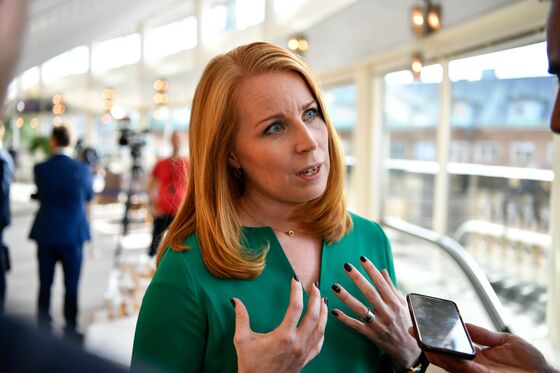 Center Party leader Annie Loof said it's now important to be realistic. "We must cooperate and discuss with one another," she said. "Lofven has dedicated his whole political life to advocating for understanding over bloc lines. It's a good opportunity to use the coming days for serious and constructive discussions."
The Green Party, a Social Democratic ally, also urged more cooperation across the aisle. "There's a tradition in Sweden to work over the bloc lines that is often more rewarding for democracy," said Per Bolund, a Green Party member and financial markets minister.
Swedish rules stipulate that there can be four attempts to form a government before there's a new election. Sweden has never gone beyond round one, but that could change this time. The margin is razor thin, both sides are digging in and the Sweden Democrats has vowed that it won't back any government without getting concessions.
The biggest Nordic lender, Nordea Bank AB, said on Tuesday that while a new election can't be ruled out it seems "unlikely."
"It's still open how the new government will look like," said Torbjorn Isaksson, chief analyst at Nordea, in a note. "But with Norlen as speaker the probability increases that the new PM will be Ulf Kristersson."
Sweden Democrats leader Jimmie Akesson said on Tuesday that speaker has "a very difficult job ahead of him."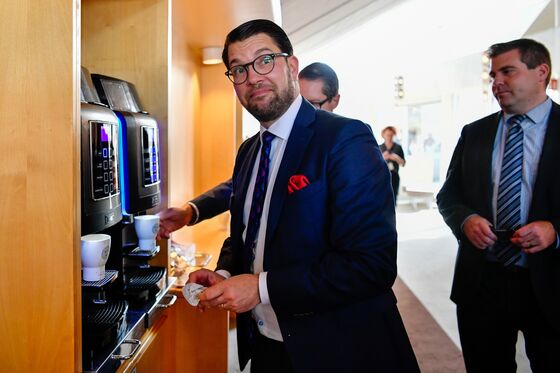 "I'm not here to stir up trouble," he said after the vote on Tuesday. "I don't think that we are going to let through a government that doesn't have the right conditions to rule the country."
The party has already been successful in shifting the Swedish debate, with almost all groups now advocating for stricter immigration limits and more law and order. The party saw a surge in support after Sweden was flooded by migrants during the refugee crisis over the past few years and also gained followers after the global financial crisis.
The party, which has neo-Nazi roots, has also been trying to become more palatable to the mainstream parties, kicking out its most extreme members.
Mattias Karlsson, the group leader of the Sweden Democrats, said the most important issue now will be what migration policy any potential Alliance government proposes. "It may fail already there," he said.
Sweden needs a halt to asylum seekers, Karlsson said. The best alternative is a Moderate and Christian Democrat coalition government that is "tolerated" by us and the Center and Liberal parties, he said.
Opening the parliament, the Swedish monarch, King Carl XVI Gustaf, called for cooperation.
"Some decisions will be easy to make, some a bit more complicated," he said. "The nation's interest is in your hands. I wish you strength, courage and wisdom."