Swedish Party Leaders Report Little Progress in Talks to Form Government
(Bloomberg) -- Sweden's top two party leaders emerged from behind the scenes and had little to reveal in terms of progress in talks to break a four-month political impasse.
Swedish Social Democratic leader Stefan Lofven said talks were ongoing with all parties, calling them "constructive." Opposition leader Ulf Kristersson said he was having "intensive" talks with the other three parties in the center-right Alliance group.
The two have been called on by the speaker of parliament as the best alternatives to form a government and break the deadlock caused by September's inconclusive election. They need to lure over Center Party and the Liberal, which are meeting this weekend to decide whom to back ahead of a key vote in parliament next week.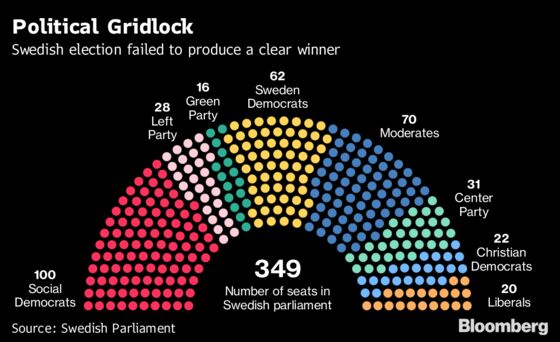 Andreas Norlen, the speaker, has set a deadline for the talks to end on Jan. 14 with a prime minister vote scheduled on Jan. 16. If that fails, a final and fourth premier vote would then be held on Jan. 23 in a last effort to avoid a new election.
A poll released on Thursday showed growing dissatisfaction among voters. Some 60 percent think Sweden is heading in the wrong direction, according to an Inizio poll in Aftonbladet.