Swedish Lawmakers Fault Cabinet For Flaws in Covid Handling
(Bloomberg) -- A parliamentary committee rebuked the Swedish government for mistakes in handling the Covid-19 pandemic, dealing a fresh blow to the minority cabinet whose initial hands-off approach earned domestic and international criticism.
The government acted too slow to ramp up coronavirus testing and didn't do enough to protect the elderly and to safeguard access to protective equipment during the crisis, which has claimed the lives of more than 14,000 people in the country of 10 million, the parliament's constitutional watchdog said on Thursday.
The committee, made up of members from all parties, conducted extensive hearings before reaching a unanimous decision. While it doesn't have the power to unseat ministers, its criticism can be used as ammunition by opposition parties that seek to launch a vote of no confidence.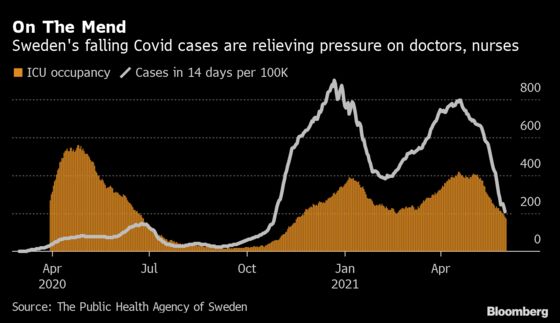 "The committee's opinion is that the government's handling of the pandemic has been deficient, and that is serious," chairwoman Karin Enstrom of the opposition Moderate Party told a news conference. "We have brought up a number of deficiencies."
At one point, the nation's death rate per capita from Covid-19 was among the world's highest. More recently, the government has pointed to data showing that Sweden had a lower rate of excess deaths than most European countries during 2020.
The Nordic country was widely scolded in the early days of the pandemic for not doing enough to stop transmission of the disease, even drawing a rare rebuke from the King after the death toll among the elderly had mounted.
"The government made sure to secure information on transmission in elderly care, but the early measures were insufficient," Liberal Party lawmaker Tina Acketoft said. "Unfortunately we have devastating numbers to show that they weren't."
During the second wave of the pandemic, the Swedish government took firmer measures to stop transmission, implementing restrictions that were stricter than during spring and enacting a law that would allow authorities to shut down large parts of society.
On June 1, the country took its first steps to loosen restrictions by allowing restaurants and bars to remain open until 10:30 p.m., two hours longer than earlier, and increasing the number of people allowed in seated outdoor audiences to 500.
The number of patients at Swedish intensive-care units, which have worked close to full capacity during the pandemic, has halved over the last 3 weeks. Data from the Public Health Agency, published Thursday, show the number of cases has also fallen rapidly.