Climate Is Becoming a More Important Issue in Sweden's Election
(Bloomberg) -- Climate is becoming a more important topic for Swedish voters ahead of the Sept. 9 election, boosting support for the Greens after one of the hottest summers on record sparked an unprecedented number of forest fires.
Some 23 percent of voters now say climate is one of the three key topics, according to an Ipsos poll published in Dagens Nyheter newspaper on Monday. That's up from just 15 percent in June, and makes the topic equally important to education, immigration, crime and law and order, the poll showed.
Health care remains the most important issue for voters, with 44 percent of the 913 Swedes polled by Ipsos on Aug. 7-16 choosing that as one of the three most important topics ahead of the general election next month. Combined, immigration and integration is the second-most important issue, at 40 percent.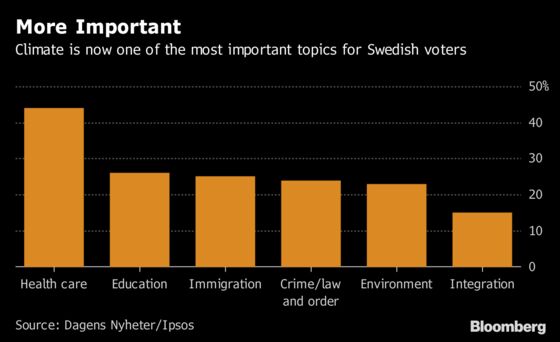 The increased focus on the environment is benefiting Sweden's Green Party, which is gaining support after polling dangerously close to the 4 percent threshold needed to win seats in parliament. The party, which is currently part of the Social Democrat-led government coalition, has the best environmental policy of all parties, according to the voters in the DN/Ipsos poll.
Sweltering Summer Lifts Sweden's Green Party Ahead of Election
In a Sifo poll published Aug. 17, backing for the Greens rose to 6.5 percent from 5.6 percent in an earlier poll this month and up from 4 percent in June.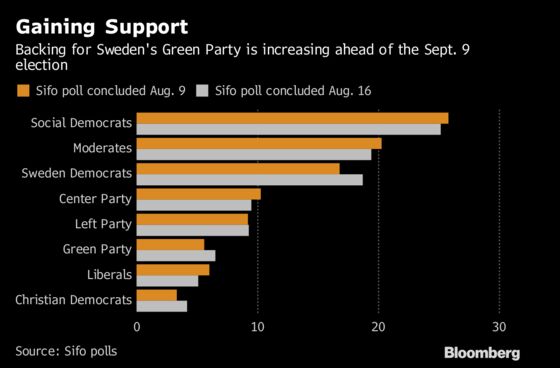 The Greens "have clearly benefited as the agenda in politics has shifted," Sifo said in a statement. "The party is, in the eyes of the voters, a one-topic party with a strong position on climate and environmental issues."