Sweden's Political Impasse Now Has a New Front to Contend With
(Bloomberg) -- Swedish Social Democrat leader Stefan Lofven now has one day to bring together a disparate collection of market liberals and former communists to resolve an unprecedented political impasse.
After four months of talks, Lofven had forged a historic deal with two centrist parties to form a new government as part of an effort to deny influence to the anti-immigration Sweden Democrats. But that meant abandoning his ally the Left Party, which on Monday rejected the deal.
Left Party leader Jonas Sjostedt said he wants Lofven as prime minister, but can't accept having "zero influence" and would need changes to provide the votes needed. Lofven's new allies, the Center Party and Liberals, countered that the deal wasn't up for negotiation.
Parliament speaker Andreas Norlen chastised party leaders over their failure to secure an accord. But to allow for a solution, he delayed a prime minister vote by two days to Friday and will announce his nomination on Wednesday. "I assume that everyone will do their utmost," Norlen said.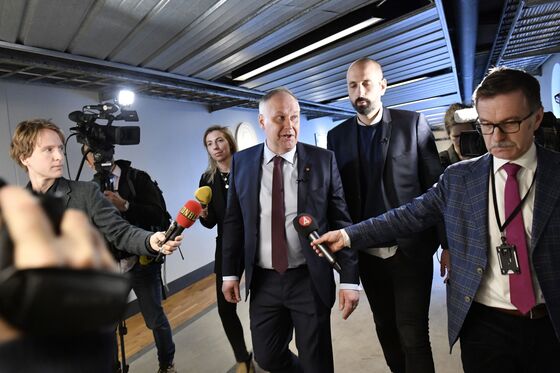 Sweden's establishment is struggling to find a viable coalition after an election that saw the nationalist Sweden Democrats emerge as the third-biggest group and the Social Democrats post their worst result in a century. The conservative Moderates also lost votes, and neither of the two traditional blocs achieved a majority, echoing a broader rise in European populism.
For now, markets have taken the turmoil with calm. While the krona gained on news last week that a deal was struck, it was 0.1 percent weaker on Monday, trading at 10.25 per euro.
The deal "is both reassuring and concerning," said Hakan Frisen and Daniel Bergvall, analysts at SEB AB. "It will give Sweden a functioning government in the short term, but public recriminations about broken political promises and internal tensions may trigger the new government's collapse before its four-year term of office ends."
Lofven's deal with the Center Party and Liberals included a pledge to freeze out his former allies in the Left Party and a shift in policy to tax cuts that were unpalatable to the former communist party.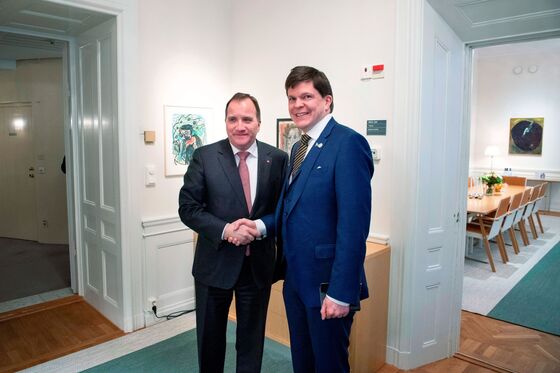 "This would be the most right-wing Social Democratic government that Sweden has ever had," Sjostedt said at a press conference in Stockholm.
At his own briefing on Monday, Lofven tried to soften the break with his former ally, saying he was still open to negotiations with the Left on issues over the next four years but he maintained that the deal on the table is "negotiated to the bottom." Center Party leader Annie Loof also emphasized that the current deal can't be renegotiated.
Loof said the deal was the best available under the circumstances. The party's priorities were to end the stalemate and keep the fringe parties from exerting influence, while advancing more liberal market policies.
Daniel Suhonen, head of the left-wing think-tank Katalys, said he thinks that outlook is "quite good" for Lofven becoming PM this week or next week. "'I think all Sjostedt wants is the Social Democrats to show them respect," he said.
But voters are lukewarm. According to a poll by Demoskop for Expressen newspaper, some 48 percent of Swedes were against the deal while 45 percent were in favor.
The turmoil has also emboldened the Sweden Democrats. Its leader, Jimmie Akesson, said on Monday that he now envisages the party becoming the dominant party in a conservative bloc that will challenge for power in 2022.
The concessions offered by the Social Democrats "illustrates what a party of power it is," he said. "Policies don't mean so much."
With 167 seats of a total of 349, the four-party constellation would still be short of a majority in parliament and would need backing from others to get measures through the legislature. But its budgets would still pass since they only need a plurality.
A potential vote on Friday would be the third prime minister vote held in parliament since the September election, with both Lofven and Moderates leader Ulf Kristersson having lost earlier. There must be four votes before a new election is held. The speaker signaled that a fourth one could happen at the end of next week if necessary.