Swedish Political Mess Deepens as Talks on Broad Coalition Fail
(Bloomberg) -- Sweden's political turmoil shows no signs of ending after talks on a broader coalition fell apart.
After a week of talks, the opposition Center Party on Monday rejected forming a government with the Social Democrats, throwing negotiations wide open again three months after the Nordic nation's inconclusive election that saw big gains by a nationalist party.
The Center Party worked "day and night" and is "disappointed" that the Social Democrats weren't willing to compromise enough, leader Annie Loof said at a press conference. The "differences are still too big," she said.
The decision means a potential parliament vote on Social Democratic leader Stefan Lofven will be put off, the speaker's office said in a statement. Talks with the party leaders will now be held over the next "few days" after which a decision will be made on the next step, the speaker said.
At a press conference on Monday, Lofven said he remains willing to find an agreement and will now wait for what the speaker decides after the coming talks.
"Sweden needs a new government and I will do what I can to try to make that happen," he said, adding he made concessions on income tax cuts and labor market reforms and that there was a final cooperation agreement that his own party approved but that was rejected by the Center Party.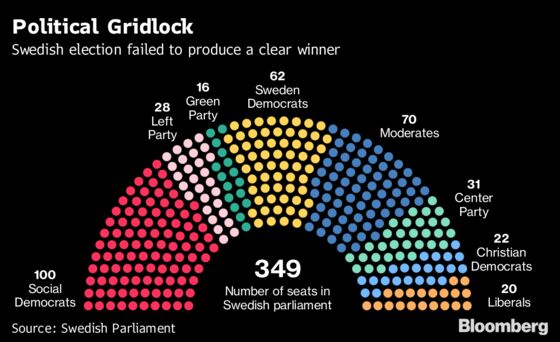 Sweden is at an impasse and needs three more votes in parliament before a new election can be held. Moderate Party leader Ulf Kristersson last month lost his bid to form a narrow conservative government after the Center and Liberal parties balked at backing a government that relies on support from the nationalist Sweden Democrats.
As talks founder, the nation also faces a vote on next year's budget. The Center Party let it be known on Monday that it aims to vote for its own plan on Wednesday and will then abstain in other votes, suggesting a spending plan from the conservative Moderates and Christian Democrats is likely to pass. The care-taker government headed by the Social Democrats has proposed a transitional budget.
The Liberal party, which had also been negotiating with Lofven, Monday afternoon canceled a planned meeting for Tuesday, saying they would also vote for their own budget and abstain in the final vote.