Swedish Competition Agency Rejects Forcing Banks to Handle Cash
(Bloomberg) -- Sweden's competition and financial watchdogs both opposed a proposal made by lawmakers to force the country's largest banks to handle cash as they try to limit a rapid development into a cashless society.
In a consultation response to the proposal, the Swedish Competition Authority said the plan would distort competition as it affects only a few of the banks. The Swedish Financial Supervisory Authority also opposed the proposal, saying that securing access to cash should be a responsibility of the state.
"The proposal risks hurting competition between banks, reduce incentives for new solutions for the handling of cash and payments, raise costs for consumers and reduce the efficiency on the market," the competition authority said.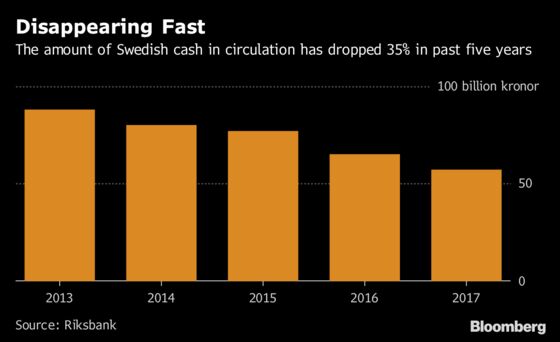 In June, a committee reviewing central bank law proposed making it mandatory for banks that provide checking accounts and have more than 70 billion kronor ($7.8 billion) in deposits from the Swedish public to offer cash withdrawals and handle daily receipts. In response, the Swedish Bankers' Association said on Oct. 15 that the proposal to make just a few banks responsible for providing cash could be in breach of European Union rules.
Sweden's Banks Oppose Proposal to Force Them to Handle Cash
In an interview earlier this month, the committee's chairman, Mats Dillen, said the proposal could be adjusted to include all banks if there are legal problems with forcing only some banks to provide cash. In its consultation response, Sweden's central bank already argued for a more far-reaching plan.
While Riksbank Governor Stefan Ingves said the central bank "mainly welcomes" the plans, he also said it "wishes to go a step further."
"It's our opinion that all banks and other credit institutions that offer payment accounts shall be obliged to handle cash," Ingves said in a statement.
Other stakeholders, such as the financial regulator, argue that it should be the responsibility of the state -- and not the banks -- to make sure Swedes have access to cash. As the proposal mainly aims to reach regional-political goals and strengthen the crisis preparedness of society, it would not be reasonable to give responsibility for cash to certain financial institutions, the FSA said.
"To secure access to cash is a collective good that the state should reasonably be responsible for," the FSA said.
Swedish ATM provider Bankomat echoed that view, saying that it should be the state's responsibility to ensure that citizens have access to cash as the the handling of notes and coins is such an important part of a country's infrastructure. Bankomat said it also wants the committee to propose giving the Riksbank clearer responsibility for cash handling, including for cash depots across the country and for subsidizing the infrastructure, it said.