Swedes Gird for Tense Week as PM Faces Rejection in Crucial Vote
(Bloomberg) -- Sweden is headed for a political showdown next week that could culminate in a vote to oust Prime Minister Stefan Lofven and kick off months of tense talks to avoid a snap election.
Lofven is clinging to power after an election in which his bloc won a slimmest possible one-seat lead over the center-right, four-party Alliance bloc. But the rise of the nationalist Sweden Democrats has denied either side a majority, meaning they will either need the anti-immigration party's backing or accede to minority rule.
So far, the two sides are waiting to see who will blink first. "Everyone is going to take this as far as possible," said Niklas Bolin, a political scientist at Mid Sweden University. "The Alliance isn't going to fold until they have at least have tested their chances."
After a new parliament is established on Sept. 24, the legislature could call a confidence vote on the prime minister as soon as the next day. The speaker will then sound out the different parties on who has the best chance of forming a government and pick a candidate. A new government will then need to pass a vote in parliament. This type of negotiation can happen four times before a new election needs to be held.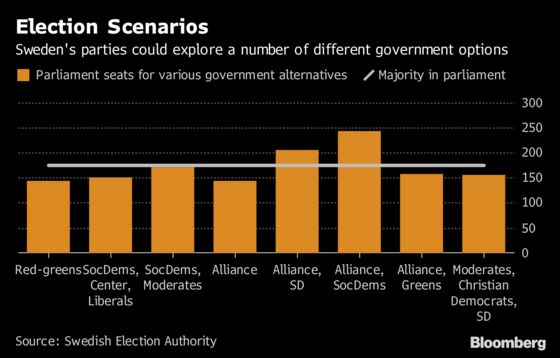 Sweden has never gone more than one round in such talks before a government was formed. But the country has also never before faced a more difficult parliamentary situation since all the established parties have refused to work with the Sweden Democrats because of its neo-Nazi roots.
Ulf Kristersson, the leader of the biggest opposition party, the Moderates, has excluded outright government talks with the Sweden Democrats but hasn't rejected grabbing power should the nationalists back him. While that view is largely shared by the Christian Democrats, his Liberal and Center party Alliance partners have so far signaled that they would be unwilling to form a government that relies on such backing.
Jonas Hinnfors, an associate professor at Gothenburg University, said the strategy of the Sweden Democrats will probably be to try to divide the four-party Alliance. "They want to put pressure on the Alliance and think that a Moderate and Christian Democratic government would be better," he said.
The first step of the new parliament will be the election of a speaker. Given the situation, that job is now more important than ever and there's a risk that the usually neutral role could become politicized, according to Hinnfors.
The Social Democrats on Tuesday tried to pressure the Alliance by offering talks on finding a joint candidate on a speaker, while center-right group has said they will seek to present their own pick.
Lofven is seeking to break up the Alliance, which was created 14 years ago to unite the center-right parties and end the long-dominance of the Social Democrats. Under former Prime Minister Fredrik Reinfeldt, the Alliance held power from 2006 to 2014.
Lofven's attempts to peel off the Center Party and the Liberals have so far come up empty. They are also unlikely to back a government that relies on the former communist Left Party, a key ally of Lofven's Social Democrats over the past four years.
Left Party leader Jonas Sjostedt said on Wednesday said that the Alliance is "cooking a recipe for chaos" given that it will need backing from the nationalists to form a government. "We can't accept that the Alliance seizes power when they lost the election."
So one thing is clear, someone will need to compromise or lay down their votes in order for Sweden to avoid a new election in the next few months.
Thomas Bodstrom, a lawyer and former Social Democratic justice minister, said the parties now need to stop campaigning and insulting each other.
"Simple math tells you that quite a few election promises are going to be broken from both sides," he said.
In any case, the lights will stay on in Sweden. The government will continue in a caretaker capacity until a new one can be agreed on, even if Lofven is ousted next week.
Speaking to reporters in Stockholm on Wednesday, Lofven said there has been no progress on government talks over the past day, calling the parliamentary situation "unclear."
He said he won't present a government declaration next week.