Swedish Speaker to Nominate Opposition Leader to Break Deadlock
(Bloomberg) -- The speaker of parliament said he will nominate opposition leader Ulf Kristersson as the prime minister candidate next week to break the gridlock that has gripped Sweden since its inconclusive election two months ago.
At a press conference at parliament on Monday, Speaker Andreas Norlen said it's important that the process is driven forward and that alternatives are tested in the legislature. A formal nomination will be made on Nov. 12 and a vote could happen two days after, the speaker said.
Norlen has been leading group talks since last week to try to untie a political knot after neither of the two establishment blocs won a majority in September's election. The vote saw a surge in support for the nationalist Sweden Democrats, a party with neo-Nazi roots which now sits as a king-maker in the middle.
Kristersson, who leads the conservative Moderate party, on Monday accepted the task and said he will aim to present a government based on the four-party Alliance's policies. The Christian Democrats have already declared that they want to be part of the government, while he has invited the Center party and Liberals, he said.
"I'll go to a vote in parliament under all circumstances," Kristersson said at a press conference. "Talking can't get us any further in this process."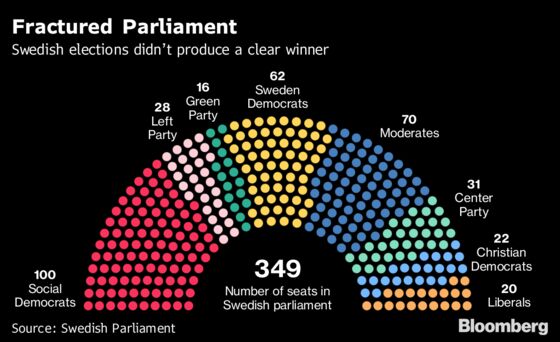 Kristersson already failed in his first attempt to form a viable government, after which acting Prime Minister Stefan Lofven, a Social Democrat, was also unsuccessful.
Kristersson faces deep divisions within his alliance, with the Center party and Liberals opposed to any negotiations with the Sweden Democrats.
There's no set deadline for how long government talks can take. But four formal votes have to happen in parliament before a new election is called.
Jimmie Akesson, the leader of the nationalist Sweden Democrats, has urged the speaker to speed up the process and bring alternatives to a vote in parliament. The analysis within his party is that it would ultimately gain from a new election, he said last week. Akesson told newspaper Aftonbladet on Monday that he's keeping the "door open."
After Lofven and Kristersson's failures, it had been speculated on that the role of trying to forge a compromise would fall to Center Party leader Annie Loof. Norlen said that he had considered this, but that Kristersson as well as the Christian Democrats had opposed giving the job to Loof.
In a post on Instagram, Loof said that it was regrettable she wasn't given the opportunity to see whether forming an Alliance government is possible.
"I'm, of course, even in the future ready to play an active and constructive role in the work to ensure Sweden gets a new, strong government," she said.
Liberals leader Jan Bjorklund said in an interview with TV4 that his party will vote against Kristersson next week since it wants to continue to try to seek cooperation between the two blocs, but that its stance may change at a later stage.
Loof told the broadcaster that her party will decide how it will vote in the coming week after getting an explanation from Kristersson on how he will relate to the Sweden Democrats, whose support he will depend on to pass budgets.