Sweden's Slow Burning Political Impasse Awaits a Solution
(Bloomberg) -- More than two months have passed since Sweden's inconclusive election and the Nordic country is still without a new government. The job to forge a compromise last week fell to the Center Party, which won just 8.6 percent, after the two biggest groups failed.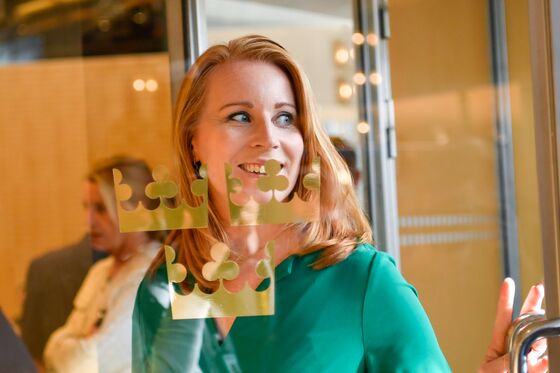 Center leader Annie Loof is due to report back to the speaker of parliament on Thursday. If she makes progress, she could be given more time. Her main aim is to fashion a compromise to allow a government to be formed without giving influence to the nationalist Sweden Democrats, an anti-immigration party that emerged as the third biggest with a large chunk of lawmakers after September's vote.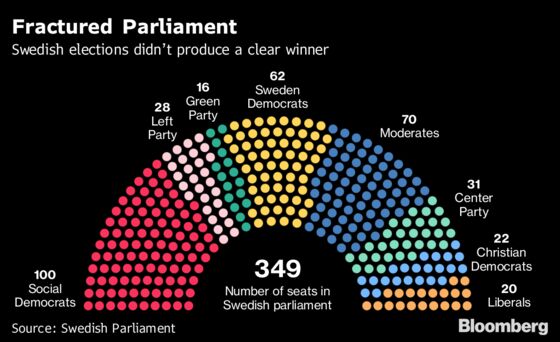 What's the most likely outcome?
Loof faces a very difficult task and she probably won't be the last to lead talks. But down the line, either a government led by the Social Democrats, supported by its current coalition partners as well as the Center party, or a Moderate-led government that's passively supported by the Center party, will likely be formed. The two biggest parties have rejected all talk of a grand coalition.
Unlikely. Both acting Prime Minister Stefan Lofven and opposition leader Ulf Kristersson are against it, seeing themselves in that spot. But she's No. 1 with the bookies and could exact the premiership as her price for forming a new bloc with the Social Democrats. She last week declined to back Kristersson's attempt to form a narrow coalition with the just the Christian Democrats.
No one knows. So far only one of the four prime minister votes needed to trigger a new election have been held. The pressure to compromise is likely to rise the closer we get to a new election since polls show the Sweden Democrats could make further gains.
Not yet, but Sweden's central bank is getting worried.
"If it takes very long, then it sooner or later becomes a problem and then the world around us will also think it's worrisome," Riksbank Deputy Governor Per Jansson said on Nov. 14. Just like during Sweden's financial crisis in the 1990s, it could weaken the currency and send interest rates higher, he said. "Those times are something we absolutely don't want back."
There's a fight there too. The caretaker government presented its 2019 budget last week and the Moderates are preparing an alternative. Right now, it looks like the Moderates' spending plan, which includes tax cuts, could win with two other parties ready to support it, and two, including Loof's Center Party, abstaining. (A lot depends on what happens in the government talks before the budget is voted on Dec. 12.) A new government can also make budget adjustments later.