Sweden's PM Self-Isolates After Potential Exposure to Covid-19
(Bloomberg) -- Sweden's Prime Minister Stefan Lofven has begun self-isolating after potentially being exposed to the coronavirus.
Lofven said in a Facebook post that someone in his vicinity had been close to another person who had contracted Covid-19. Lofven and his wife Ulla have now chosen to isolate themselves on the advice of a doctor.
"That is the only responsible thing to do in this situation," said Lofven, who has no symptoms and is working remotely.
The development comes as Sweden crossed a grim milestone on Thursday, with the tally of Covid-related deaths exceeding 6,000 for the first time. In a further worrying sign, the number of patients in intensive care has doubled over the past two weeks and now stands at 90.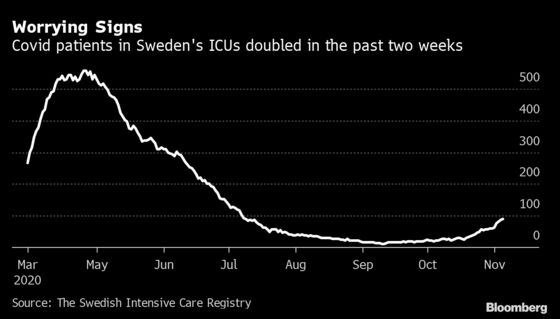 "We are now beginning to see a clear impact on the number of patients in intensive care," said the health agency's Karin Tegmark Wisell at a press conference in Stockholm.
The agency also said that two further regions in Sweden will face stricter restrictions through Nov. 26 as a result of "a clear upturn" in Covid-19 cases.
"The development is going in the wrong direction fast," Prime Minister Lofven said. "More are infected. More die. This is a serious situation."