Sweden's Lofven Says Next Few Days Will Be Decisive in Talks
(Bloomberg) -- Swedish Social Democratic leader Stefan Lofven called on all parties to compromise to break a four-month deadlock after September's inconclusive election.
"The Social Democrats are still prepared to compromise to form a government in the middle of Swedish politics," he said in a statement to news agency TT. "In the coming week, all parties must make every effort to ensure that Sweden as soon as possible gets a viable government that's not dependent on the Sweden Democrats."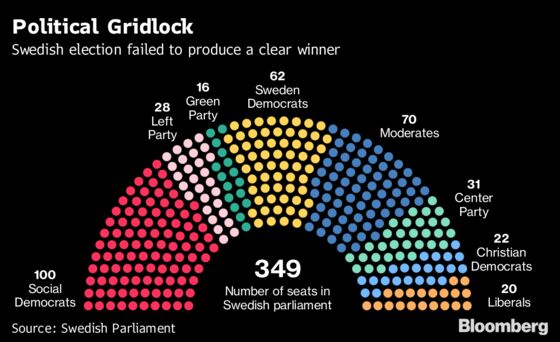 Lofven on Friday reported back to the speaker of parliament on government talks, according to the speaker's office. The speaker will talk with opposition leader Ulf Kristersson later on Friday.
Andreas Norlen, the speaker, has set a deadline for the talks to end on Jan. 14 with a prime minister vote scheduled on Jan. 16. If that fails, a final and fourth premier vote would then be held on Jan. 23 in a last effort to avoid a new election.