Sweden's Government Talks Reach a Record With No End in Sight
(Bloomberg) -- Acting Prime Minister Stefan Lofven reported scant progress after a week of trying to form a new government amid the deepest political gridlock Sweden has ever seen.
Lofven, who's trying to extend his four-year rule by cobbling together a new coalition, said the situation remains "difficult and complicated," after meeting with the speaker of parliament, Andreas Norlen. The acting premier will continue with another week of talks and hold confidential discussions with the other party leaders.
"There's just one way forward, and that is continued talks," Lofven said at a press conference in Stockholm on Monday. "That's our responsibility to the Swedish people."
After opposition leader Ulf Kristersson first failed, Lofven now enters his second week in what is already a record long post-election government formation process. Sweden is in gridlock after voters flocked to a nationalist party, denying either of the two traditional blocs a majority. So far, neither side has been willing to compromise or shown any major signs they will seek to reach across the aisle to break the bloc politics that have dominated Sweden over the past decades.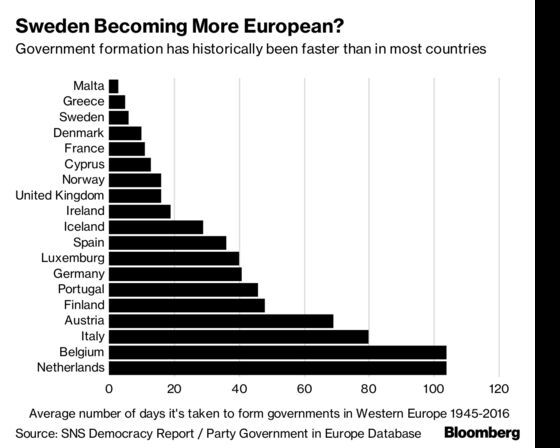 Lofven has been trying to lure over two smaller parties in the center-right Alliance, the Center and Liberal parties, to form a majority. But they have so far rebuffed his entreaties, saying he needs to talk to the bigger Moderate Party to find a way forward.
Bloc politics are "damaging to Sweden," Lofven said on Monday.
Lofven's center-left coalition has a one a seat lead over the Alliance, but has no real path forward since the nationalists have tended to support the center-right bloc. The center-right has also painted itself in a corner since the Center and Liberals have said they will not rule with the backing of the nationalist Sweden Democrats due to its neo-nazi roots.
Odds for Center Leader Improve in Race for Sweden Prime Minister
There's no set deadline for how long talks can take. The speaker has yet to call for a formal vote in parliament, which has to happen four times before a new election is called. Investors have so far shrugged off the crisis and the krona has risen since the election.
But Sweden is running up against a budget deadline on Nov. 15. If no government is in place Lofven's caretaker government will present a transition budget. But technically the opposition parties could also deliver their own spending plans, which could stand a good chance of passing.