Sweden's Government Talks Go Nowhere as Main Blocs Trade Barbs
(Bloomberg) -- The process of forming a Swedish government tumbled right out of the gate.
Opening up the negotiations two days after the still inconclusive vote on Sunday, the center-right opposition gave Prime Minister Stefan Lofven an offer he roundly refused.
The leaders of the opposition Alliance bloc on Wednesday tried to form a government that relies on support from Lofven in exchange for broad cooperation on housing, immigration, pensions and defense policy. The move would also have blocked the nationalist Sweden Democrats from wielding too much power.
"We realize how hard the political situation will be in Sweden in the years to come, Ulf Kristersson, head of the conservative Moderates, said at a press conference with his fellow Alliance leaders on Wednesday. Forming a government will "take time" and will be "complicated," he said.
Meanwhile, Swedes are waiting for the final outcome of Sunday's so far inconclusive election, with about 200,000 ballots added to a recount. There are roughly 29,000 votes separating the two main political blocs.
The election also got closer on Wednesday, with the Alliance gaining a seat in the count to 143 versus Lofven's group of parties getting 144 lawmakers in the 349-seat parliament. The Sweden Democrats appear to have won 62 seats. All sides have declared themselves winners, with the opposition gaining on Lofven's bloc. He has refused to resign, citing his coalition's higher seat count.
The opposition's proposal to form a government was both "illogical" and "undemocratic," Lofven said.
While refusing to become a support party, Lofven said he was open to talks with all parties, as well as cooperation on a host of issues. What's needed now is "humility" and "objectivity," he said. The Alliance has to decide whom they dislike less, the Social Democrats or the Sweden Democrats, he said.
The Alliance earlier in the day made clear it would try to oust Lofven as soon as the new parliament is seated on Sept. 24. The opposition leaders also said that they won't put down their votes and allow Lofven to continue to rule a minority coalition, as he has over the past four years, and will deny the Left Party any influence. The Alliance won't seek the support of the nationalist Sweden Democrats, but vowed to "respect" its voters, which make up about 17 percent of the electorate.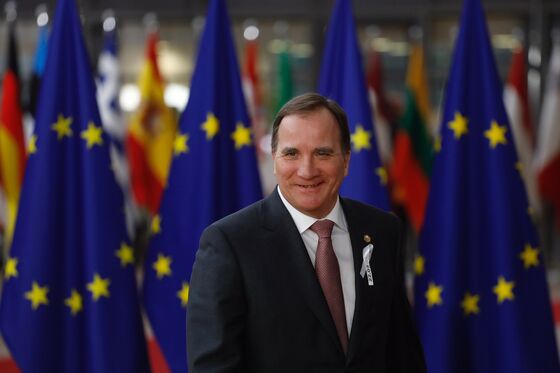 The party leaders are resurfacing after the inconclusive outcome of Sunday's election left Swedish politics in limbo. On Tuesday, the tabloid newspaper Aftonbladet went so far as to put a "Wanted" poster on its front page, asking readers if they had seen Lofven, Kristersson or any of the other party leaders.
Lofven, who has promised more welfare spending, has already been open to breaking with the traditional political blocs and seek new alliances to stay in power. But he rules out any collaboration with the Sweden Democrats, whose anti-immigration agenda he has criticized.
On Wednesday, he said "all decent" parties now need to come together, adding that the Swedish people should be sure of that the country's democracy is "robust."
Sweden Democrat leader Jimmie Akesson said on Monday he would vote against any government that doesn't give his party influence, according to Dagens Nyheter. Mattias Karlsson, the party's parliamentary leader, cast it in more stark terms. He said in a Facebook post on Monday that the only way forward to secure the survival of Swedish culture and nation was "victory or death."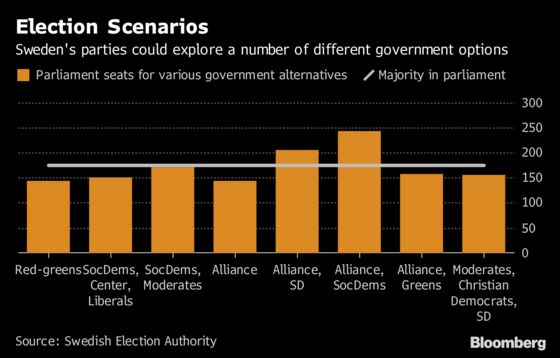 The Liberals and the Center Party have so far also rejected feelers by Lofven on supporting a Social Democratic government.
Annie Loof, who leads the Center Party, said on Wednesday that she doesn't believe in a government that crosses the political blocs. The blocs should stop quibbling over who is the biggest and instead focus on real, effective talks, she said.
For now, markets and business leaders in Sweden are taking the political situation in their stride.
The chief executive at Swedish insurer Folksam, Jens Henriksson, says it seems clear that Lofven will be voted out as soon as parliament meets in two weeks, with Kristersson getting a mandate to try to form a new government.
"Sweden is a stable democracy," Henriksson said. "I don't think it matters that much if the government formation process sways a bit for a few weeks, that won't have a big effect on the economy."
But he also says the outcome shows that Sweden is now "like any other European country, with a weakened Social Democracy and a strong right-wing populist party. Sweden now looks a lot like France, before Macron."
Kerstin Hessius, the head of the AP3 pension fund, says Sweden's strong public finances will allow it to weather any turmoil. "When public finances are in order, the economic system can handle much more," she said in an interview on Tuesday. "This will be solved in a good way, I'm not very worried."