Sweden's Opposition Moves on to Plan B as Gridlock Persists
(Bloomberg) -- Swedish opposition leader Ulf Kristersson said he would now turn to "Plan B" as part of his center-right Alliance's efforts to form a government after failing to secure the support of Social Democrat leader Stefan Lofven.
"The Alliance now needs to agree on Plan B, when it's clear that Plan A, judging from everything we know, can be excluded," Kristersson said at a press conference in Stockholm Wednesday. He declined to elaborate further on Plan B, saying only that he will now discuss it with his coalition partners.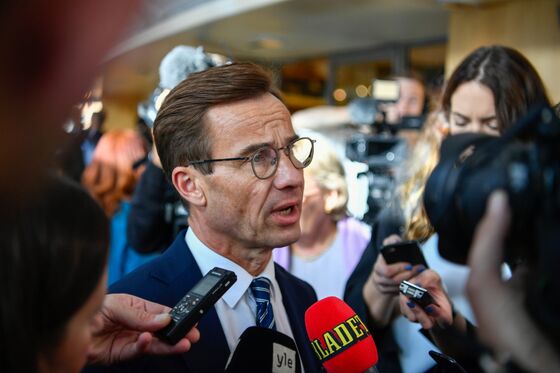 Kristersson made his comments after meeting the parliament's speaker, Andreas Norlen, to inform him about his progress in trying to form a government after last month's election showed a virtual dead heat between the two traditional blocs. Sweden has found itself in a political gridlock after a surge in support for the nationalist Sweden Democrats left neither side with a majority.
"I have investigated the possibility that an Alliance government should be able to be formed as a result of agreements with the Social Democrats," Kristersson, the Moderate Party leader who spearheads the four-party opposition Alliance, had said earlier in an op-ed in Dagens Nyheter newspaper. "Stefan Lofven has clearly rejected that possibility."
In his talks with outgoing Prime Minister Lofven, Kristersson discussed whether the Social Democrats would allow a minority Alliance government to be formed, as well as whether it would agree on long-term reforms not tied to the government formation. The Social Democrats rejected both ideas and, according to Kristersson, don't seem willing to cross the traditional left-right divide unless they're in power.
Kristersson said his ambition remains to "create a government that is based on the Alliance's values and concrete political proposals." At the same time, the Alliance has highlighted the need for broad agreements "on long-term and difficult questions," he said. He will now try to form a government without the support of the Social Democrats.
"One door has closed, and I'm now discussing the Alliance's other alternatives," Kristersson said. He has one more week to form a government, before the speaker hands over the process to another candidate. That candidate is most likely to be Lofven, who was ousted in a confidence vote on September 25.
Since two Alliance members -- the Center Party and the Liberals -- don't want to form a government with the support of the Sweden Democrats, Kristersson's Moderates could instead try to form a cabinet with just the Christian Democrats. Such a government would require support from both the Center Party and the Sweden Democrats. But Center party leader Annie Loof let it slip last week that her second choice would rather be some kind of grand coalition.
Sweden has so-called "negative parliamentarism," whereby a minority government can be in power as long as a majority of lawmakers don't vote against it. Parties have a maximum of four attempts to form a government or face a new election within three months. The new government will need to present a 2019 budget to parliament within three weeks of assuming office, or November 15 at the latest.