Sweden's Stalemate Nears End With Deal to Keep Nationalists Out
(Bloomberg) -- Sweden's record-long political gridlock is nearing a solution after Social Democratic leader Stefan Lofven struck a deal with key centrists parties to remain in power as the establishment seeks to deny influence to the country's growing nationalist party.
The accord ends four months of tense negotiations, but will also raise anger among the large number of voters who demanded change in an election that handed big gains to the nationalists and the Social Democrats their worst election result in a century. It also breaks up the center-right opposition Alliance, leaving the conservative Moderate Party out in the cold.
The Social Democrats agreed on a deal with the opposition Center Party and Liberals and its ally, the Greens. On Saturday, the Center Party formally approved the accord while the leadership of the Liberals narrowly endorsed it ahead of a full party vote on Sunday. Lofven will also need backing from the Left Party, which has yet to say how it will vote.
After becoming a magnet for refugees during the migrant crisis and years of high unemployment, Sweden like many other countries has seen large shifts in voter sentiment. The Sweden Democrats, a party with neo-Nazi roots, became the third-biggest party in September's election, denying either of the two traditional blocs a majority.
Describing the deal as the best available under the circumstances, Center Party leader Annie Loof said the key priorities were to end the stalemate and keep the fringe parties from exerting influence. "We choose a government without support from the Sweden Democrats," she said on Saturday. "The election was a vote on values."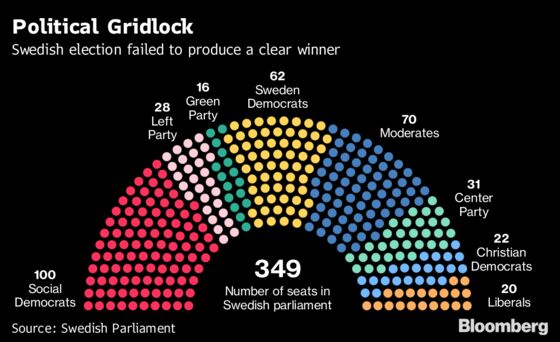 The agreement means the two small opposition parties will back a Social Democrat and Green Party government, but will evaluate it on an annual basis. The platform represents a sharp shift from the tax-raising agenda over the past four years. It includes cuts to marginal tax rates, broader tax breaks for hiring home help and a green-light for allowing private welfare providers to make profits. It also proposes to increase taxes on pollution and the finance industry among. It was not well received by the biggest Labor union, LO, a key backer of the Social Democrats.
Loof said that the deal isn't a "free pass" for Lofven to return to "left-wing policies."
Her former partners in the larger conservative Moderate Party and the Christian Democrats were swift in their condemnation. Moderate Party leader Ulf Kristersson said the opposition four-party Alliance is now over on a national level. It's a "really bad decision," he said at a press conference.
Voters were lukewarm to the new constellation. In a poll by Inizio, 36 percent of voters picked "disappointment" to describe how they felt, making it the top choice. That was followed by "disbelief," "resignation" and "relief." Some 22 percent picked "anger," and 21 percent opted for "hope."
With 167 seats of a total of 349, the constellation would still be short of a majority in parliament and would need backing from others to get measures through the legislature. But its budgets would still pass since they only need a plurality.
As talks have dragged, with both Lofven and Kristersson losing parliamentary prime minister votes, speaker Andreas Norlen last month set a deadline for talks to end on Monday and a vote two days later. If that fails, a final and fourth premier vote would then be held on Jan. 23 in a last effort to avoid a new election.
Norlen will meet with party leaders on Monday and then announce who will be voted on as prime minister.