Sweden Set to Get a Government This Week as Leftist Reined In
(Bloomberg) -- Sweden's Social Democratic leader Stefan Lofven is poised to win another four years in power after persuading the Left Party to stand aside, allowing his new centrist government to block the nationalists from influence.
Lofven is set to prevail Friday in a prime minister vote, ending a four-month spell without a formal government -- the longest in Sweden's history. He was formally nominated by the speaker on Wednesday after two days of intense talks with his former allies in the Left Party.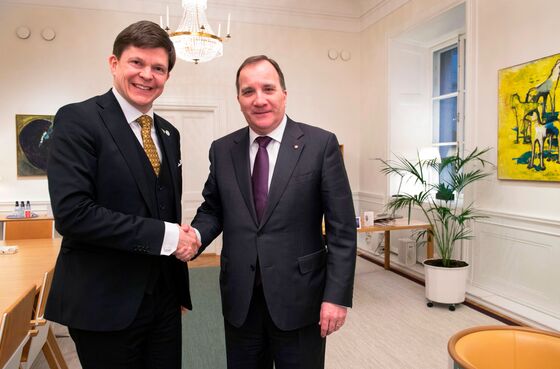 "It's been an autumn like no other in Swedish politics," Andreas Norlen, the speaker said, recounting two prime minister votes, three exploratory rounds, four broad discussions, six meetings with the King and seven rounds with all the parties. "There have been more questions than answers."
After an inconclusive election in September, Sweden's traditional blocs are now splintering as the political map is redrawn. The country faces a future with a fragile coalition operating inside a political landscape in which nationalism has gained ground and establishment parties have suffered body blows.
Lofven, who served as prime minister over the past four years and led his party to its worst election result in a century, said he was "humble" after receiving the nomination.
"The spirit of mutual understanding and cooperation is important for Sweden," Lofven said at a press conference. "We will continue building on this."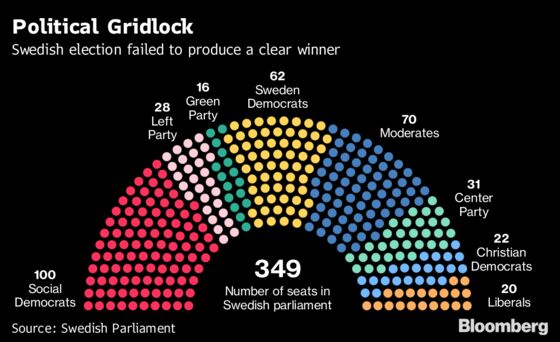 Driven by a mutual commitment to keep the anti-immigration Sweden Democrats from wielding influence, Lofven was able to reconcile the agenda of a party that once identified itself as communist with that of parties favoring tax cuts and deregulation. He also made some hefty concessions, promising tax cuts and more labor market flexibility.
Left Party leader Jonas Sjostedt on Wednesday said he would abstain in the Friday vote, but also issued a threat that he would attempt to topple the government should it try to carry through on plans to ease rent regulation and loosen labor market rules.
But for that he would need to team up with the nationalists and the conservative Moderates, now also out in the cold.
Per Josefsson, a partner at Brummer & Partners and chief investment officer at Carve Capital, said that while he would have preferred a center-right government, the outcome could have been worse. But the new government "feels very shaky," he said.
"The equities market would of course appreciate some of the suggested changes to labor market regulations," he said. "But the threat from the Left is there. So the question is whether they really are going to pass. The tax cuts in the agreement are also pretty good, maybe even better than what would have been in the case of an Alliance government."
There was rancor in what's left of the Alliance, the former center-right opposition.
Abandoned by his opposition partners, Moderate Party leader Ulf Kristersson called the new coalition an "absurd" formation based on empty promises. The Center Party and Liberals have been "fooled" by Lofven, he said.
But investors are looking forward to stability.
"Lofven has a decent change of keeping the government together," said Staffan Hansen, who oversee about 175 billion kronor ($19 billion) as chief executive officer of SPP. "The policies look balanced overall, even if there's some left-wing noise."
Here are key points from deal:
Taxes will be cut on work and incomes, abolishing the state tax of 5 percentage points on incomes above a certain threshold. According to Nordea, income taxes will be lowered by some 20 billion kronor in 2019-2020.
Labor market rules for dismissals will be eased and payroll taxes will be lowered. The Public Employment Service will be reformed, and the cost to employ immigrants and long-term unemployed reduced. 
The state will build high-speed trains, at a cost of 700 billion kronor in 2019-2029.
Rent regulation for apartments, in place since World War II, will be liberalized for new housing. To increase mobility in the housing market, fees on postponed payments of capital-gains taxes will be abolished.
Environmental taxes will be raised by 15 billion kronor to help fund tax cuts.