Sweden Introduces New Covid Measures as Transmission Grows
(Bloomberg) -- Sweden will introduce a range of new measures to curb Covid-19 transmission as hospitalizations increase and the Nordic country prepares for a surge of infections caused by the omicron variant. 
"We have a new virus variant and the situation has changed," Prime Minister Magdalena Andersson said at a press conference Tuesday. "We need to do what is needed and it will get tougher for a while."
From Thursday, new rules state that large events will have to require proof of vaccination for entry, restaurants may only serve seated patrons and all events with more than 20 participants will need to take some form of precaution to lower the risk of virus transmission.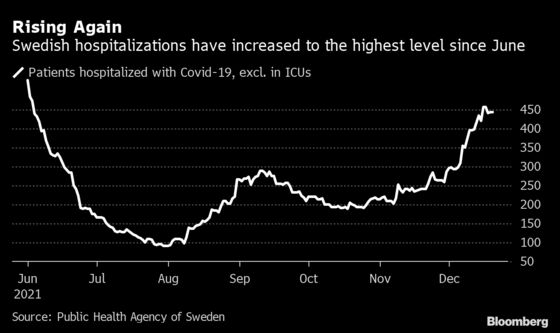 Sweden has long been spared from the most recent wave of the disease that has swept across Europe and prompted countries to impose severe restrictions. However, in the last 14 days the number of people hospitalized with Covid-19 in Sweden has increased by more than 40% and omicron could fuel an accelerating surge of infections. 
According to forecasts from the country's public health agency, Sweden could see the highest number of daily infections since the beginning of the pandemic within a few weeks. In that worst case scenario, the number of daily hospitalizations is projected to increase almost fivefold from current levels.
"The levels are still lower than in previous critical phases of the pandemic, but the situation is concerning," Karin Tegmark Wisell, the agency's director-general, said at the press conference. "Hence, our assessment is that additional measures need to be introduced to curb transmission as soon as possible."