Sweden Heads for Showdown in Parliament to Break Gridlock
(Bloomberg) -- Sweden is in its longest post-election period without a new government after big gains by the nationalist Sweden Democrats left neither of the two traditional blocs with a majority.
To jar loose the gridlock created by September's inconclusive election, the speaker of parliament -- who's steering the government formation process -- has called for a vote in parliament on Wednesday on making opposition leader Ulf Kristersson the next prime minister.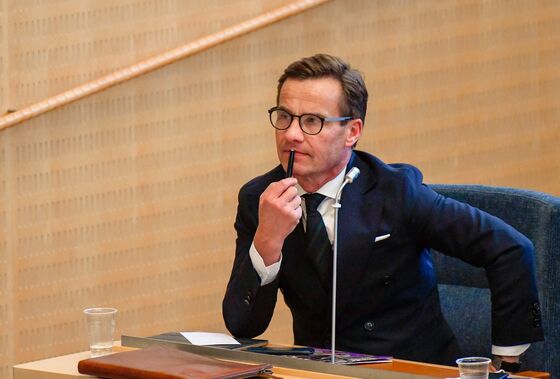 Not as it looks right now. The Moderate leader on Monday said he would seek to form a small minority coalition with just the Christian Democrats, which will need backing from the Sweden Democrats on key issues. His partners in the center-right bloc, the Center Party and the Liberals, have said they can't support a government that relies on such support, leaving Kristersson far short of a majority. He now faces a tense couple of days to see if he can win his opposition Alliance colleagues over to his side.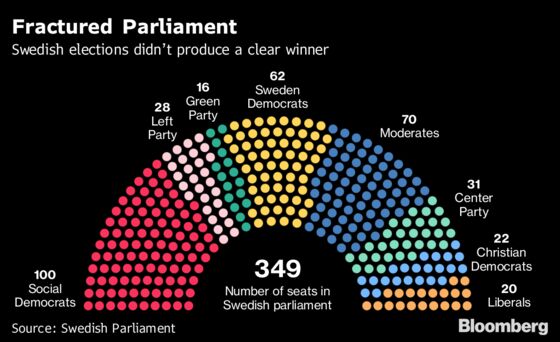 The Alliance was formed by Sweden's four center-right parties in 2004 to unify the opposition and end decades of Social Democratic dominance. It ruled from 2006 to 2014 under former Prime Minister Fredrik Reinfeldt, but is now deeply divided over whether to grab power with the help of the Sweden Democrats. Should the Center Party and Liberals decline to back Kristersson on Wednesday, it could spell the end of an important era of Swedish history.
3. What happens next?
Speaker Andreas Norlen may ask acting Prime Minister Stefan Lofven to try to form a Social Democratic-led government and schedule another prime minister vote next week. But he could also pick Annie Loof, the Center leader, who's seeking to form a center-right government with support from the center-left side. Both those alternatives also don't have a clear path forward.
4. Will Sweden have a new election?
Potentially. But parliament needs to hold four prime minister votes before a new election is called. And, if polls are to be believed, the big winner from the gridlock looks right now to be the nationalists. That means the main parties face tough choices between reaching out across the aisle in compromise, allowing their rivals to rule, or risking another election.
5. What's going on with the budget?
Unless Kristersson wins, the caretaker government will present a transition budget on Nov. 15, which will be a continuation of the 2018 spending plan and contain no new initiatives. All parties will have until Nov. 30 to present alternatives. The Moderates have said they will present their own plan and have also called on a unified budget from the Alliance, should it still exist after this week's vote.
Not really. The krona has gained since the election. The country is in the relatively stable hands of a caretaker government, it has large budget surpluses, low public debt and the economy is producing close to capacity. Investors are more focused on whether the country's central bank will raise interest rates next month, or wait until February. Nevertheless, Nordea Bank predicted in a recent outlook note that the krona could get a further boost should Kristersson prevail.