Aung San Suu Kyi Says Genocide Trial Against Myanmar Neglects Key Facts
(Bloomberg) -- Myanmar's defacto leader Aung San Suu Kyi, who led the nation's team to the International Court of Justice to address a case alleging genocide against her country's Rohingya Muslim minority, delivered her first public speech since the hearings on Wednesday evening.
The Nobel laureate accused the small Muslim-majority nation of The Gambia -- which last week laid out a detailed and graphic case describing the systematic rape and murder of thousands of Rohingya Muslims at the hands of Myanmar's military -- of neglecting the facts of the conflict in Rakhine State.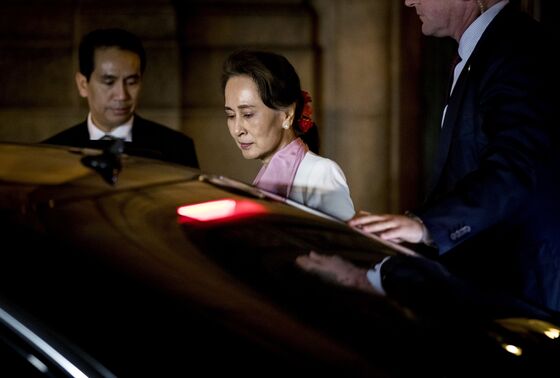 In her 16-minute long speech, Suu Kyi said The Gambia failed to mention history of conflict and fighting between the Myanmar military and the separatist, insurgent Arakan Army.
Still, she said there could have been some human rights violations and deviations from the international norms of justice and the rule of law. "But such kinds of violations cannot be considered as genocide," Suu Kyi said. "We do have the willingness to take action, as well as the full authority, to take action against these violators."
Suu Kyi reiterated two of Myanmar's request to the ICJ -- to remove the case and to reject The Gambia's request for provisional measures to protect the Rohingya community.
With close to one million Rohingya living in squalid refugee camps across the border in Bangladesh's Cox's Bazaar area, Suu Kyi told the court last week Myanmar was taking every step to ensure their safe repatriation, disputing claims by numerous rights groups.
"At this point, we are waiting for the Court's decision which may come out in January," Suu Kyi said Tuesday.